The Indian System of Medicine has a lot of value and has numerous success stories. Aarogya.com endeavors to disseminate health information on benefits and uses of Ayurveda and Homeopathy. Similarly the Chinese System of medicine in the form of acupuncture and acupressure also has great value and hence the complementary medicine section covers these too.
Herbs and medicinal plants and remedies practiced by tribal folk also find mention in this section. We welcome contributions to this section.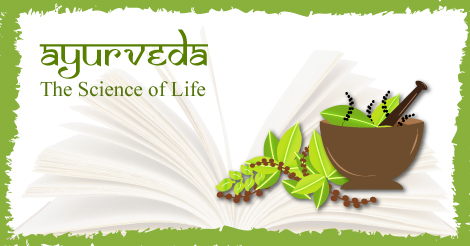 Ayurveda is considered by many scholars to be the oldest healing science. It is the "The Science of Life". Ayurvedic knowledge originated in India more than 5,000 years ago. It stems from the ancient Vedic culture and was taught for many thousands of years in an oral tradition from accomplished masters to their disciples. Some of this knowledge was set to print a few thousand years ago, but much of it is inaccessible. The principles of many of the natural healing systems now familiar in the West have their roots in Ayurveda. It is the first medicinal science that treats the diseases as a combination of body and soul. It advises ways to achieve complete happiness by recommending the ideal way of living.

The Literal Meaning of Ayurveda
Etymologically, the word Ayurveda is made up of two basic terms – Ayu and Veda. Ayu means life and Veda means knowledge or science. So the literal meaning of the word Ayurveda is the science of life. Ayurveda stresses the prevention of disease and advocates the use of good herbs. Knowledge of this science helps to create this balance health by maintaining a balance in one's life, right thinking, diet, lifestyle and the use of body, mind and consciousness according to the individual constitution (prakriti) and how to make lifestyle changes to bring about and maintain this balance. Life according to Ayurveda is a combination of senses, mind, body and soul. So it is clear from this definition that Ayurveda is not only limited to body or physical symptoms but also gives a comprehensive knowledge about spiritual, mental and social health laying the path to a complete way of fit and healthy life.
Ayurveda (pronounced as 'aa–yoor–vey–da') is an ancient Indian medical science. It is a natural health care system thought to be the "Mother of healing". It teaches how to achieve optimal, physical, mental, and emotional health by living in harmony with nature. It is a complete science laying guidelines not only for the ill but for the healthy too. Ayurveda is thus a preventive and curative medicinal science. It deals with a wide variety of fields like medicine, gynecology, pediatrics, surgery, anatomy, E.N.T., dentistry, herbal drugs, ayurvedic dieting and nutrition and rejuvenation medicine. Unlike modern western medicine, which focuses on treating the symptoms of an illness, Ayurveda concentrates on the source of the disease using natural treatments to eliminate the root cause and promote the patient's inherent self healing abilities by improving immunity.

Ayurveda believes in understanding the individual's "Biological Makeup", and then treating the person accordingly. It maintains that all life must be supported by balanced energy. When there is minimal stress and the flow of energy within a person is balanced, the body's natural defence systems will be strong and can more easily defend against disease. It uses natural herbs and minerals in the refined form to treat the illnesses. Due to this reason there are no side–effects and the medication is completely safe. Many people believe that it is the oldest and most developed science of natural healing system in the world.
Acupressure involves pressure points on the body with fingers or hands to alter the internal flow of a supposed vital force or energy called chi (pronounced "chee"), strengthening it, calming it or removing a blockage of the flow. Acupressure is one of a number of treatment methods regularly used in Traditional Chinese Medicine, or TCM, a system of health care that originated in China thousands of years ago, which is still widely practiced in Asian countries today. According to TCM, Acupressure points chart are aligned along 14 body meridians, or pathways. Twelve of the meridians are bilateral, that is, identical versions of them (with the same sets of points) exist on both sides of the body. The other two are unilateral, running along the midline of the body. The 14 meridians do not correspond to any known physiological processes or anatomical structures in the body, such as nerves or blood vessels. Nevertheless, some well–controlled studies suggest that Acupressure can be effective for a number of health problems, including nausea, pain and stroke–related weakness. A single point may be pressed for relief from a particular symptom or condition, or to promote overall well–being of the body. A series of points can be worked on in a specific order.
Acu
means needle,
puncture
means to prick or to penetrate.
Acupuncture
is one of the most ancient and characteristic techniques of Chinese medicine. From ancient times, this acupuncture technique was valuable in the treatment of both acute and chronic diseases. It was even practiced in the Stone Age with stone needles. The Eskimos still use sharpened stones for treating illness.
In times of war, soldiers who were struck by arrows in certain parts of the body, found themselves cured of ailments in other parts of the body. So, curious persons started to wonder whether there was any relation between pricks on the skin surface and cure of the internal organ.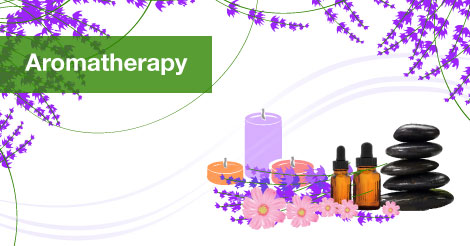 "If the day and night are such that you greet them with joy and life emits a fragrance like flowers and sweet scented herbs that is your success. All nature is yours. Congratulations".
Henry Thoreau
As the body and mind function together, extreme stress may cause physical and emotional symptoms. We might feel helpless or depressed. Possibly, we experience headaches, digestive problems, or frequent infections. We may feel anxious, irritable and have difficulty in sleeping.
There are holistic ways to treat such symptoms and Aromatherapy is one of them. It helps by working on the brain, the mind and the emotions.
Aromatherapy
is the use of fragrant, concentrated oils from parts of plants, such as their flowers, fruit, stalks, roots and bark, for the purpose of improving a person's health and well being.
Aromatherapy treatment can be performed internally as well as externally, the aim being to restore balance to the mind and body. The general physiological conditions improve, thus making the person less vulnerable to diseases. Aromatherapy also helps in the rejuvenation and regeneration of the human body.
Aromatic products can be traced back as far as 4500 BC when
essential oils
were prepared in China and India centuries ago. They were then used by Egyptians, Greeks and Romans. The Arabs started to use these later on in the 10th and 12th centuries. In England, their usage started in 13th Century.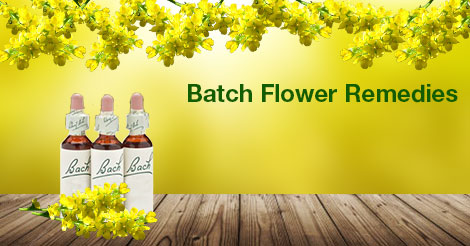 Dr. Edward Bach
Dr. Edward Bach was a Harley Street medical practitioner whose interest was aroused by Homeopathy, which he incorporated into his practice. However, Homeopathy often involves elaborate case–taking, sifting of symptoms, tedious repertorization and choosing of potency. Dr. Bach believed that there must exist in nature remedies that were as safe and effective, but simpler to prepare and prescribe. He gave up his practice, and between 1930 and 1936, took to the search for such remedies, and founded the system which now goes by his name.

There are 38 original Bach Flower Remedies, also called the Flower Essences or Bach Remedies. Unlike Homeopathic or Biochemic remedies, the flower remedies do not have potencies. However, in the past few years, not only have Bach remedies being potenticized, but many remedies have been added to the original 38.
Bodywork
is an umbrella term for the many techniques, both ancient and modern, that promote relaxation and treatment of ailments (especially those of the musculoskeletal system.) through lessons in proper movement, postural re–education, exercise, massage and other forms of bodily manipulation. Some types of bodywork – including massage, qigong, reflexology, shiatsu and t'ai chi–can be practiced at home. Others may require the guidance of a trained professional.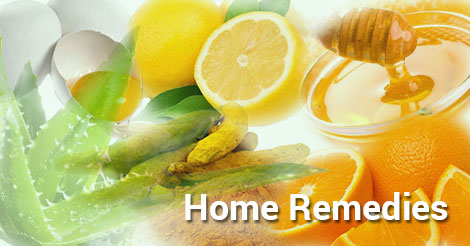 You'll be surprised to discover numerous remedies for common, everyday ailments in your own kitchen. From times immemorial Indian spices for instance have been known to possess proven therapeutic properties along with the service they render to our taste buds. Instead of rushing to your family physician with minor complaints or popping pills that are easily available over the counter, it is infinitely better to avail of the riches of nature's bounty to provide yourselves and others in the family healing for common illnesses. As awareness about the detrimental side–effects of protracted use of several allopathic medications have increased on the one hand, and a simultaneous "Back to nature" movement that has revolutionized the approach to health care on the other, home remedies have become a simple, viable, feasible and easily accessible option even an illiterate housewife could exercise.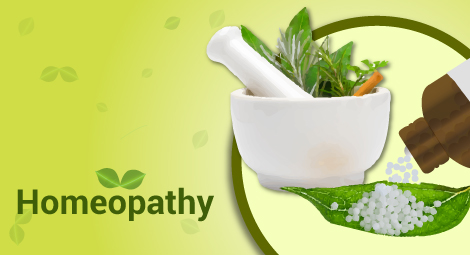 Homeopathy
was discovered by Dr. Samuel Hahnemann–a German Physician in 1790. During one of his experiments he noticed that after ingesting the juice of bark of China (Cinchona officinalis) he developed malarial symptoms (chills, fever, nausea), whereas Cinchona drug was actually used to treat malaria. Thus a new system of medicine evolved called Homeopathy based on principle "Similia Similibus Curantur" which means 'Likes cure likes'. That is, a drug that produces certain set of symptoms in a healthy individual can cure the same in a diseased individual.
In his experiments, Dr. Hahnemann developed a method of "potentizing" homeopathic remedies by diluting them in a water–alcohol solution and then vigorously shaking (or succussing) the mixtures. The results convinced him that a high degree of dilution not only minimizes the side effects of the remedies but also simultaneously enhances their medicinal powers.
Homeopathy is derived from Greek words "Homoeos" = Like or Similar, and "Pathos" = disease or suffering, which means 'Likes cure Likes'. The efficacy of Homeopathy drugs is well established in almost all the ailments including those which are a challenge to the modern medicine such as Rheumatoid Arthritis, Cancer (Malignancies of various origins), Diabetes Mellitus.etc.
Most importantly since homeopathic medicines are in dilutions the side–effects are grossly minimized. Hence this system is perfect in ailments of infants and children. The effects or the medicinal values of the drugs are determined by Drug Proving. The homeopathic drugs are derived from various sources. A good remedy removes the disease from its roots and leaves no trace of the disease behind. Individuality (Constitutions) is given prime importance in Homeopathy because no two individuals are alike. Hence we have one drug per individual and this path thus becomes unique and more accurate. Case–taking is the most vital part prior to treatment wherein the mental symptoms along with the physical symptoms are analyzed by the doctors. There is a concept of Vital force and Miasms which determine the health status and his future health condition which are again unique to the principle of this path.
After 200 years, Homeopathy has made tremendous advance with pioneers such as Dr. James Tyler Kent, Dr. Boeninghausen, Dr. Boericke, making voluminous contributions and enhancing the spread of this branch world over. Today Homeopathy is recognized and practiced in over 30 countries around the world. It is recognized Internationally as a branch of Complementary and Alternative medicine.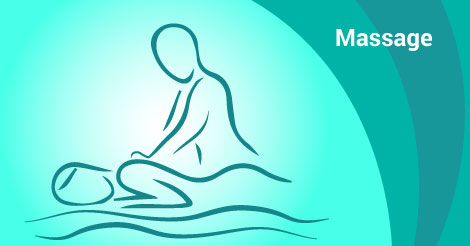 Massage therapy
is the scientific manipulation of the soft tissues of the body to normalize those tissues.
It consists of manual techniques that include applying fixed or movable pressure, holding, and/or causing movement of or to the body, using primarily the hands but sometimes other areas such as forearms, elbows, or feet. These massage techniques affect the musculoskeletal, circulatory–lymphatic, nervous, and other systems of the body.
Because massage usually involves applying touch with some degree of pressure, the massage therapist must use touch with sensitivity to determine the optimal amount of pressure appropriate for each person.
Touch used with sensitivity also allows the massage therapist to receive useful information about the body, such as locating areas of muscle tension and other soft–tissue problems.
Mechanism of Massage
A white fluid called lymph carries impurities and wastes away from the tissues and passes through gland–like structures spaced throughout the lymphatic system that act as filtering valves. The lymph does not circulate as the blood does, so its movement depends largely on the squeezing effect of muscle contractions. Consequently, inactive people fail to stimulate lymph flow. On the other hand, the stimulation caused by vigorous activity can be outstripped by the increased waste produced by that activity. Massage can dramatically aid the movement of lymph in either case.
The individual cells of the body are dependent on an abundant supply of blood and lymph because these fluids supply nutrients and oxygen and carry away wastes and toxins. That's why good circulation is so important to our health and why massage can be so beneficial for the entire body due to its effect on circulation alone.
Palmistry is a branch of Astrology which was up until now looked upon as knowledge related to fortune telling handed down by our ancestors from generation to generation. However, from the medical point of view, now, palmistry has emerged as a science in its own right that has helped doctors and patients alike in diagnosing difficult diseases.

Good health means a perfect balance between the body, mind and soul. This can be gauged by the knowledge of palmistry. For centuries medicine has recognized the link between palmistry and good health. Plato, Anaxagoras and Galen have emphasized in their writings the importance of the hand in the study of human beings.

Hippocrates the father of medicine, Aristotle founder of psychology, and Dr. Charles Bell, father of modern neurology, all studied the human hand as a diagnostic aid.

Today, Medical Palmistry, is no longer considered an occult science. It has fast been gaining a reputation for diagnosing symptoms that would otherwise take years to manifest themselves.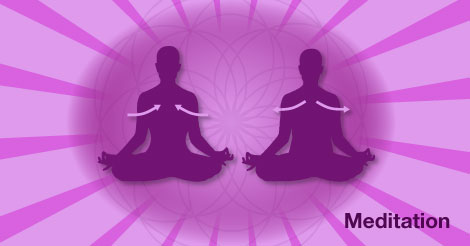 Meditation
is a way of transforming the mind. Meditation allows a person to control their thoughts, and promotes positive energy. All of us seek peace and harmony, because a lot of us find a lack of this in our lives. We all want to be happy. Happiness is a goal we strive towards more often than attaining it. At times we all experience dissatisfaction in life–agitation, irritation, disharmony and suffering.
Our personal dissatisfaction remain limited to ourselves and yet we keep sharing our suffering with others. The atmosphere around each unhappy person becomes charged with agitation. In this way, individual tensions combine to create the tensions of society. The basic problem of life is its unsatisfactory nature. Things that we do not want, happen, and things that we want, do not happen.
A graphical explanation of life
Twenty five centuries ago in Northern India, a man decided to investigate the problem of human suffering. After years of searching and trying various methods, he discovered a way to gain insight into the reality of his own nature and to experience true freedom from suffering. Having reached the highest goal of liberation, of release from misery and conflict, he devoted the rest of his life to helping others do as he had done, showing them the way to liberate themselves. This person was Siddhartha Gautama, known as the Buddha, or the enlightened one. Buddhist meditation practices helps to develop concentration and emotional positivity. Meditation can be used to combat stress, depression.
Buddha did not teach any religion or philosophy or system of belief. He called his teaching "Dharma", that is "Law", the law of nature, experienced and verified by oneself. Therefore, in his teaching Buddha always gave highest importance to the direct experience of truth. What he had experienced, he explained as clearly as possible so that the others might have guidelines with which to work towards their own realization of truth. The only way to experience truth directly is to look within, to observe oneself. All our lives we have been accustomed to look outward. We have always been interested in what is happening outside, what others are doing. We never try to examine ourselves, our own mental and physical structure, our own actions, our own reality. Therefore we remain unknown to ourselves. We do not realize how harmful this ignorance is. Meditation makes one feel relax and calm. Meditation gives peace of mind. Meditation is the key to healthy life.
Naturopathy
Naturopathy
provides holistic, or whole body, health care by taking advantage of resources drawn from numerous traditional healing systems. Dating back to the early part of the 20th century, naturopathy is organized around three fundamental principles: the physician should strive to aid the body's natural healing abilities, the root cause of an illness should be addressed rather than its symptoms, and above all, only therapies that cause no harm should be used (which means that toxic drugs and surgery are avoided whenever possible).
A naturopathy doctor, or N.D., may pay considerable attention to a patient's lifestyle, since naturopathy theory holds that physical, psychological and even spiritual elements can all contribute to disease. In treating patients, the naturopathic practitioner may use a number of alternative therapies, including Homeopathy, herbal remedies, traditional Chinese medicine, spinal manipulation, nutrition, hydrotherapy, massage and exercise.
Doctors of naturopathy train at accredited four year naturopathy medical schools. The first two years include many of the same core science classes as regular medical schools, while the final two years focus on training in natural healing techniques.
The two characters above are "Rei–ki" written in Japanese. "Rei" in Japanese means 'Spirit'. And "ki" means 'Life force energy'. Together they can be read as "Spirit led life force energy". Reiki is not magic, black or otherwise, it is not connected to any religious rites or any religion, it is not a cult or anything to do with 'Faith healing'.
Reiki
is a Japanese term that when translated means 'Universal life force', what is termed 'Prana' in Sanskrit, 'Chi' in Chinese and is known as 'Cosmic energy' to many. It is the name adopted for a system of healing that was (re) discovered by Dr. Mikao Usui in the latter part of the ninetieth century. Reiki involves the transfer of energy from the 'Reiki channel' (or the person giving Reiki) to the receiver, it is a method of holistic healing, and the underlying principle of their effectiveness are similar. However, in Reiki, no pressure is required, and the recipient's vital force is activated by the energy received from the Reiki channel.
Apart from our physical bodies, we have other etherical bodies surrounding us. The aura around us has been documented with the help of advanced photography. Yoga describes the presence of seven spiritual energy centers or the chakras in our bodies. They are on our auric level and correspond to the endocrine glands in our bodies. These are so interrelated that an imbalance in one will affect the other. This means that an infection or diseased energy first affects the auric field before the physical body develops symptoms of the illness. Therefore keeping the aura healthy goes a long way in avoiding illness. Practiced regularly, therefore Reiki works on the mind, the body, on the emotional and even on the spiritual planes. Thus, Reiki is not something that should only be done when one is unwell – it is a measure to optimize ourself on all fronts.
Reiki can be learnt and practiced by anyone, even a child. It is a very simple hands–on technique. To be a Reiki channel or a person who can practice Reiki, a person needs to acquire attunement from a Reiki master. This opens the chakras enabling the person to act as an effective conduit for the transfer of the Universal life force energy. Reiki cannot be learned from a book or by instruction. It is one of the ancient mysteries of the world and the activation of Reiki in your hands occurs only through an 'Attunement' or 'Initiation' which is given by a Reiki master.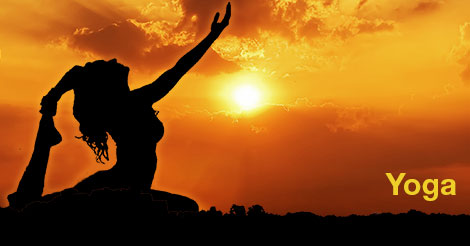 Yoga is a general term for spiritual disciplines in Hinduism and is directed towards attaining higher consciousness and liberation from ignorance and suffering. More specifically it is also the name of one of the six orthodox systems of Hindu philosophy. Both Vedic and Buddhist literature discuss the doctrines of wandering ascetics in ancient India who practiced various kinds of austerities and meditation.

Hindu tradition in general recognizes three main kinds of Yoga –
Jnana yoga:
the path of realization and wisdom,
Bhakti yoga:
the path of love and devotion to a personal God, and
Karma yoga:
the path of selfless action. Other classifications also exist.
Yoga Exercise
Patanjali's Yoga is known as Raja–yoga or 'Royal yoga'. Hatha yoga, which stresses physical control and postures, is widely practiced in the West. Kundalini yoga, especially associated with Tantra, is based on the physiology of the "Subtle body," according to which seven major centers of psychic energy, called Chakras, are located along the spinal column, with the kundalini, or 'Coiled–up' energy in latent form, located at the base of the spine. When the kundalini is activated by yogic methods, it ascends the spine through the main subtle artery of the sushumna, 'Opening up' each chakra in turn. When the kundalini reaches the topmost chakra in the brain, samadhi is attained.
Yoga is usually practiced under the guidance of a guru, or spiritual guide. Contemporary systems of yoga, such as those of Sri Aurobindo Ghose and Sri Chinmoy Ghose, stress that spiritual realization can be attained without the withdrawal from the world characteristic of the older traditions.
Very often there are health issues that cannot be clearly classified under a specific medical specialty. The topics under this section include health issues of this kind. This section also explains symptoms related to different kinds of illnesses and diseases. The different medical specialties are also covered in this section.
Some times it is easier to look for health information classified differently. This section aims to do just that. Therefore there is a section on teen health, women's health, old age care, etcetera. Topics like diet and nutrition, fitness and information on vets and pets have been also clubbed under this broad classification.


With various tax benefits, travel and health care facilities provisioned for them, Indian Government has created reasons for Senior Citizens to feel happy. This corner on Senior Citizens is aimed at providing details on various aspects concerning them.
Senior Citizens are a treasure to our society. They have worked hard all these years for the development of the nation as well as the community. They possess a vast experience in different walks of life. The youth of today can gain from the experience of the senior citizens in taking the nation to greater heights. At this age of their life, they need to be taken care of and made to feel special. Indian Government provides several benefits through its schemes in various sectors of development.
Men's Health
Health
is a very basic requirement of human beings. Indeed, without sound health one cannot enjoy life. Besides, one cannot possibly do anything one is required to do, by way of professional demands or domestic obligations, in an unobtrusive manner. Lack of health is likely to put restrictions on any individual.
No wonder drug manufacturing is big business and becoming a doctor still a prestigious career option for young kids. Moreover, as general awareness about health–related matters has been on the rise, people the world over have begun to pay more attention to health and hygiene. A fresh look is being taken at alternative medicine and
"Holistic healing"
is the mantra of our age. Those leading sedentary life styles have started sweating it out in gyms. Although most ailments are common to people of both sexes, there are some that are quite unique to men.
Women
Behind every man's success, there lies the hand of a woman. God created women with some extra sensitivity. A woman is majorly responsible for bringing a humanly touch to every home. She is the Home–maker. A woman's life involves around the well being of her family, which becomes her first priority at some stage of her life. But through all the rut of daily life, every woman needs to find time for herself, to take care of herself.
This section is a tribute to the Indian woman. It's about all that goes on in a woman's body and mind. Get a complete lowdown on all aspects of women's health from pre–menstrual tension, menopause, cardio–vascular disease to mental health, eating disorders, sexually transmitted diseases and more.
Jananee The 'Mother'
Director's Note
"Jananee" as a film subject hit me for the first time when I was doing a research study which involved surveying Sonography clinics in various parts of the country.
read more…
Senior's Health
Geriatrics
is that branch of medicine which
Senior Health
dedicates itself to the care of older people. It is a specialized field wherein a set of specialized physicians seek to provide health care to the elderly. Aging is a natural process which involves the gradual reduction of the body's organs and their functions. Even as children are growing up, their bodies are aging. At a later time in life, the aging process intensifies especially between 60 to 75 years. The social and biological characteristics of every age group differs as does each individual's body make–up. The social and biological characteristics of these three groups differ so much from each other that this categorization appears meaningful. It is not to be overlooked however, that some humans look old well before they are even fifty.
Child
Small people–Big feelings
Pre school children show very fast changes on physical, mental and social level. A preschooler's moods and feelings can be confusing. They show various moods from tears and tantrums to affectionate kisses and uncontrolled energy.
Here, at Aarogya we can help you understand your child better and deal with all the emotional ups and downs that your child goes through. Their hands and feet are adorably little. They wear small clothes, love tiny toys and have a favorite stuffed friend that is just the right size for them to cuddle.
But their feelings are so very big
Preschoolers (aged 2½ to 5 years) can have emotions that demand attention, support and resolution. They are intense, confusing, and surprisingly difficult. They cry suddenly and then are happy in no time. Get ready! You are about to dive into the rough and wonderful environment that is the emotional life of a preschooler.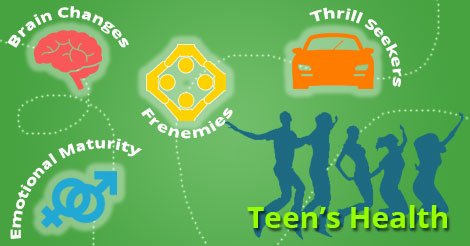 Teen's
A teen section on our website needs feedback from adolescents themselves, whom it is aimed at. Hence, it seemed fitting to incorporate what they have to say about adolescence.
Adolescence
comes from the Latin word meaning to grow to maturity. Adolescence is a very important period in one's life as one goes through many changes–physical as well as mental, which have short–term and long term effects. At this time in their life,
teens
are also very vulnerable.
It has also been widely supposed that adolescence has been characterized by rebellion and great psychological disturbance. Then again, the lack of this disturbance also becomes a factor for concern. However, both these views have been proved to be misleading and incorrect. The changes that teens undergo during adolescence may occur so fast that it may be difficult to cope with them.
Adolescence includes social, emotional as well as mental maturity. In fact, adolescence can be termed as a transitional stage. The person is no longer completely dependent, biologically immature and psychologically weak. Yet the person is not completely independent, mature and a strong adult. This century is known for its stress, hence today's youth also cannot escape it. Besides, parental pressure, unhealthy competition and peer pressure also affect today's youth. Western culture also has a great impact on today's youth.
At this age, teens become more rebellious and want to find their own identity. They tend to have disregard for social and family norms in their behavior, hairstyles and clothing. They might try smoking and drinking to prove their independence. They consider their parents to be old fashioned and restrictive. They go out more with friends rather than with their families. They now share their problems with their friends. As a sign of their independence they also start driving cars/bikes with or without their parent's knowledge. They may also misuse their freedom.
If you are a
teenager
you would want to look at the following. Just to be aware of course. To be able to make responsible choices with the new found freedom which is slowly being given to us. Another thing. This is YOUR section. Feel free to write and contribute to us. Write your comments, articles and suggestions to:
This email address is being protected from spambots. You need JavaScript enabled to view it.
It is the responsibility of every person to have knowledge of First Aid. It is a human instinct to help other person in pain or after injury. Importance of First Aid has been growing day by day. First Aid is given to people who had an accident or has sudden illness and who cannot obtain medical help instantly.
The main aim of First aid is to
To save life.
To promote fast recovery.
To prevent the aggravation of the victim's situation.
The features of a rescuer are as follows
He has to reach the victim in time and save him.
He has to be keep himself calm, careful and fast in action.
To have the knowledge of the injury and its nature.
Know how to carry out the first aid measures and give appropriate treatment.
Shift the victim to the nearby hospital and show him to a qualified doctor.
Fitness
What is
fitness
? How does one achieve it? How is it measured? The first question appears to be the simplest but is in fact the hardest to answer. In comparison, the other two are straightforward. The problem with defining fitness is that the condition varies with individuals.
Lack of fitness
is more easily described and is more obvious. Shortness of breath when exerting oneself, being overweight, slowness, clumsiness of movement and lack of agility are some of the symptoms.
It is important to understand that the
concepts of fitness
involve several factors of which muscular strength is only one, power (a combination of strength and speed), stamina, endurance and flexibility are others, which include factors of agility, coordination and skill. All of these cannot be found in a single conventional training for fitness. Acquiring fitness is easier and more rapid for the younger person than for the older person, especially when the latter has been inactive for a longer time. Thus fitness is specific to the individual and can be related to a person's goal in life, whether taking on comfortable, everyday tasks (hazards) or wishing to be super fit for a chosen sport. To be fit means possessing all the components mentioned above in some measure. Fitness is indicated generally by the pulse, heart beat, capacity to do exercise and good blood pressure reading.
Humor
Want to know why the proverb "Laughter is the best medicine" became so popular? Just go through our Humor & Trivia section & you will understand why. Even if you are not the curious one, it won't harm you to sport a Smile or suppress a laugh. After all it increases your "FACE VALUE".
If you have something interesting to share we would love to put it up so that everyone can enjoy it. You can mail us at
This email address is being protected from spambots. You need JavaScript enabled to view it.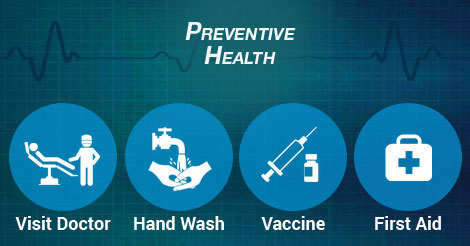 Washing hands
Preventive medicine
really dates back to the 18th century. It developed as a branch of medicine distinct from
public health
. It came into existence even before the causative agents of disease were known. Preventive medicine got a firm foundation only after the discovery of causative agents of disease and the establishment of the germ theory of disease. The following are landmarks in the development of preventive medicine both in terms of treatment of disease and development of vaccines.
To highlight a few
The eradication of small pox (the last case of small pox occurred in Somalia in 1977) is one of the greatest triumphs of preventive medicine. Anti rabies treatment (1883), cholera vaccine(1892), diphtheria antitoxin (1894) and anti typhoid vaccine(1898) are others.
There are still diseases which are widely prevalent in the topics such as malaria and leprosy for which vaccines are under development. Preventive medicine is applied to "Healthy" people, Its primary objective is prevention of disease and promotion of health. The impression one gets is that preventive medicine is all about vaccination. Actually preventive medicine goes well beyond that. For example the strategies in the control of vector borne diseases (e.g. malaria, filariasis, plague) have involved the use of insecticides, which has helped in the control of diseases. These diseases have been among the most important world wide health problem, contributing to significant morbidity and mortality.
In addition, often a most neglected issue is health education.
Preventive medicine is currently faced with the problem of "Population explosion" in developing countries where population over-growth is causing social, economic, political and environmental problems. Control of this "Population explosion" is extremely important. People need to be educated about basic issues like education and sanitation. Provision for proper sewage disposal, clean drinking water are necessities that should be addressed by the local governing bodies.
Three levels of prevention are now recognized:
Primary
Intended to prevent disease among healthy people.
Secondary
Directed towards those in whom the disease has already developed.
Tertiary
To reduce the disability consequent to disease.
In addition discoveries in the field of nutrition have added a new dimension to preventive medicine. New strategies have been developed for combating specific deficiencies as for example, nutritional blindness and iodine deficiency disorders. Another notable development in the 20th century is the development of "Screening" for the diagnosis of disease in its pre–symptomatic stage. For example the cholesterol estimation and mammography (to detect breast cancer) etc. Many of the tests are usually not available easily to the common man, especially people living in rural areas.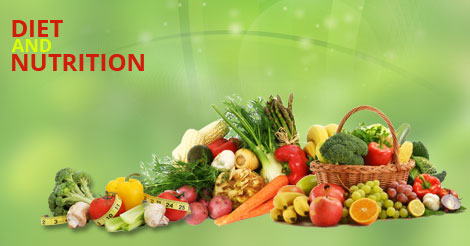 Food & fruits
Nutrition is the science of foods. It is the study of nutrients and the effect they have on our body. It includes all the processes of the human body like ingestion, digestion, absorption, transportation and utilization of nutrients and then eventually the disposition of the end product, the entire function which is termed as "Digestion". Nutrition includes every thing that happens to food, from the time it is eaten until it reaches its end process. There are many social, economical, cultural aspects of food all of which is included in the study of diet and nutrition.

Dietetics is a science as well as an art of the dietary intake of either individuals or a group of people under different economic and health conditions and then studying them according to the principles of nutrition.
Vets & Pets
Not only a dog but any pet can be a man's best friend! They give unconditional love and develop strong relationships. Studies show that those who care for a dog have better health! To own and care for a pet, particularly a dog, is to enjoy better physical and mental health. This is true for all sections of the population. Dog owners, compared to non–pet owners, are more physically active and report greater satisfaction with their physical fitness. They visit the doctor less often. Fewer take medication for high blood pressure, sleeping difficulties, high cholesterol or a heart problem. They are less likely to feel lonely.
The degree of person–pet bonding is significant. For the single person closely bonded with their dog, the benefits are even more marked. In our Vets and Pets section know more about your pet's behavioral problems, care to be taken when their gums are infected and other periodontal diseases. Also some simple tips and guidance for making your kids and dog a "match made in heaven".
Hospitals and healthcare institutions desirous of being showcase on aarogya.com find mention in this section. The section also gives useful health resources like health calculators, health videos, information on rural healthcare, medical education related information, blood donors etcetera.
Blood is composed of cells suspended in a liquid. These cells – Red blood cells (RBC), White blood cells (WBC), and Platelets – account for 45% of the volume of blood. The remaining liquid portion is the plasma. Each pint of donated blood can be separated into several components to meet the needs of various patients. Therefore every pint (unit) of blood becomes a vast array of life saving products; and there is only one source YOU!

Red Blood Cells transport oxygen to body cells and remove carbon dioxide. Red cells need nourishment for proper functioning. This is supplied through iron rich food like meat, liver, eggs, green leafy vegetables and whole–grain bread. Red cells are produced in the bone marrow, at a normal rate of about 17 million cells per second.

White Blood Cells (leukocytes) are the protective and defensive cells in the blood stream. They attack bacteria by entering capillary walls to reach the area of infection where they destroy bacteria. White blood cells are also made in the bone marrow, and are produced at twice the rate of red blood cells.

Platelets are colorless cells, produced in the bone marrow by the fragments of megakaryocytes. The main function of megakary ocytes is to control bleeding by helping to form wound–healing blood clots. Platelets also take care that blood vessels stay leakproof in daily life. Platelets adhere to torn blood vessels to create a plug, thus slowing the loss of blood.

Plasma is 92% water, 7% protein, 1% minerals, sugar, hormones, and enzymes plus vitamins. Plasma is the source of gamma globulin, serum albumin, fibrinogen and clotting factors. Factor VIII is the valuable clotting factor – a fraction of plasma.
A career is a basic necessity like how food, clothes or shelter is. Find an opportunity and get ready to move on!! Don't burn your bridges and let our medical career coach give you some advice. our direct compare guide will let you find specific medical careers and compare them side by side.

There are various medical career options for being a doctor in different fields, for which we are providing information to facilitate direct communication in medical career options. So searching for more information on a specific medical career? Try our decision guide. what are you waiting for?
Combat Drug Resistance
No action to day, no cure tomorrow
World Health Day is held on the day the World Health Organization has been established. Each year on the 7th of April international attention will be given to a topic selected by the WHO.
read more…
National Institute of Health and Family Welfare
Psychiatric symptoms are common in general population in both sides of the globe. These symptoms – worry, tiredness, and sleepless nights affect more than half of the adults at some time, while as many as one person in seven experiences some form of diagnosable neurotic disorder.
read more…
National Programme for Control of Blindness
National Programme for control of blindness is 100% centrally sponsored program with aim to reduce the prevalence of blindness from1.4% to 0.3%
read more…
National Rural Health Mission
The NRHM provides overarching umbrella to the existing programmes of Health and Family Welfare including RCH–II, Malaria, Blindness, Iodine deficiency, Filaria, Kala Azar, T.B., Leprosy and Integrated Disease Surveillance
read more…
Reproductive & Child Health II
The State is implementing Reporductive & Child Health Programme – Phase II. The period of RCH Phase II is 2005–06 to 2009–10
read more…
Revised National Tuberculosis Control Programme
Services to common people:
Free diagnosis of tuberculosis through sputum microscopy.
Treatment is directly observed by DOT provider.
Treatment on tuberculosis is available free read more…
National Mental Health Programme
The National Mental Health Programme was initiated by the Government of India to integrate Mental Health with other Health services at rural level
read more…
National Leprosy Eradication Programme
Leprosy is completely Curable.
A Pale or Red Patch on skin may be Leprosy don't fear… Treat it.
Leprosy Free check – up and MDT available in all government and Mahanagarpalika Dispensary and Health Centres read more…
National Minimum Needs Programme
The Minimum needs Program (MNP) was introduced in the country in the first year of the Fifth Five Year Plan (1974–78)
read more…
National Vector Borne Disease Control
This programme includes monitoring of all vector borne diseases like Malaria, Filaria, Dengue, J.E., Plague etc
read more…
National Iodine Deficiency Disorders Control
Government of India realised the magnitude of the problem and launched a 100% Centrally Sponsored Programme called National Goitrte Control Programme in 1962
read more…
National Cancer Control Programme (NCCP)
Cancers in all forms are causing about 12 per cent of deaths throughout the world. In the developed countries cancer is the second leading cause of death accounting for 21% (2.5 million) of all mortality. In the developing countries cancer ranks third as a cause of death and accounts for 9.5% (3.8 million) of all deaths
read more…
Dr. Keki Byramjee Grant
Dr. Keki Byramjee Grant, now 78 years is the guiding spirit behind the Ruby Hall movement. In September 1959, Dr. Grant set out to start the Ruby Hall Clinic on his own. At the time, he was honoured by being given the appointment of Hon. Professor of Medicine and Cardiology at the B. J. Medical College and Sassoon General Hospital and imparted his profound knowledge to several students, some of whom are now top professionals in their own sphere. What Ruby Hall has become today is the work of one great individual, whose dream it has always been, to bring Pune on the map of the medical world as a great center for medical care.
Ruby Hall Cllinic
Mighty oaks from little acorns grow! Ruby Hall Cllinic
Ruby Hall Clinic began as a modest experiment by K. B. Grant in September 1959. The building housing this small beginning was called Ruby after the name of the wife of the first owner, Sir David Sassoon. Thus the christening of the landmark "Ruby Hall Clinic". It was in 1966 that the Ruby Hall Clinic was converted from a private institution owned by Dr. Grant to a Public Charitable Trust – Poona Medical Foundation, of which Dr Grant remains the Chairman and Managing Trustee. Today, the complex has grown into five buildings that house 500 beds and 23 different departments.
Editorial Lecture
Chaos in Medicine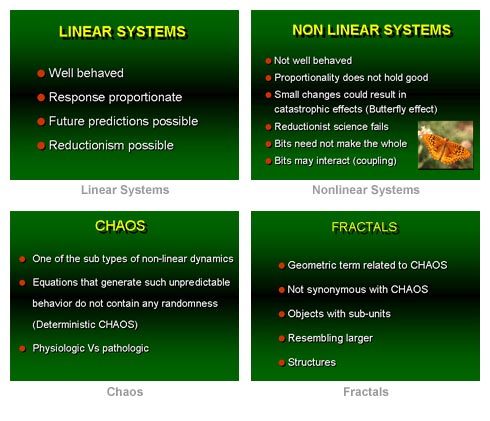 Dr. B. M. Hegde – A different science, and a completely new prospective of understanding medicine with the help of chaos theory. A holistic approach.
Multimedia Format
Tutorials
Interactive Eye Movement Simulator:
Dr Rick Lasslo You yourself can paralyze each extra ocular muscle or paralyze respective cranial nerves to see the effects on the eyes.
Eyestimulator
Multimedia Acid Base Tutorial:
Dr. Alan Grogono
A cryptic subject made easy. You can fiddle around with pH values and pCO2s, also add the bicarbonates and experiment without any risks. Your Virtual ABG Machine.
ECG Tutorial:
Dr. Martin Balzen
Teaches ECG in a Question and Answer format. View various ECGs and find out their interpretations.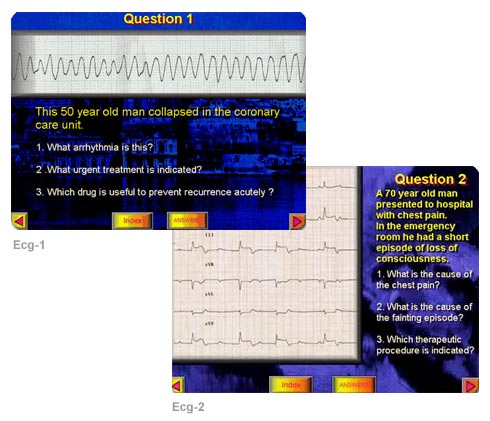 Multimedia Stethoscope:
A Heart Sound Atlas
Listen to all the Heart Sounds and Murmurs Live !! That too without even having to touch a stethoscope. Provides a wide range of heart sounds like: normal sounds, S3, S4, Aortic Stenosis, Mitral Stenosis, Atrial Fibrillation etc.
Chest X–Ray Case Studies:
Dr Eric Stern, Dr. Nitin Abhyankar
Chest X–Ray, CT, MRI collection with a case based approach and extensive discussion on clinical topics. Or
X–Ray Teaching Files: Indiana University, USA
Chest X–Ray collection classified according to the conditions.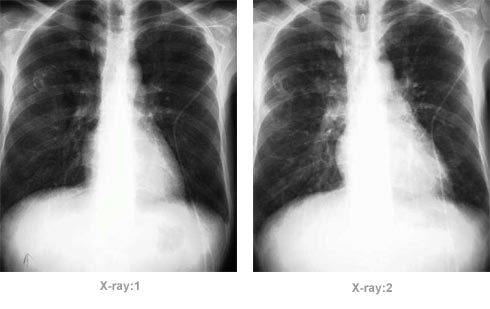 Surgeries, Side Trips for 'Medical Tourists'
Affordable Care at India's Private Hospitals Draws Growing Number of Foreigners
New Delhi:
Three months ago, Howard Staab learned that he suffered from a life threatening heart condition and would have to undergo surgery at a cost of up to USD 200,000 – An impossible sum for the 53 year old carpenter from Durham, N. C., who has no health insurance.
So he outsourced the job to India.
Taking his cue from cost–cutting U. S. businesses, Staab last month flew about 7,500 miles to the Indian capital, where doctors at the Escorts Heart Institute & Research Centre – A sleek aluminum–colored building across the street from a bicycle rickshaw stand replaced his balky heart valve with one harvested from a pig. Total bill: about USD 10,000, including round trip airfare and a planned side trip to the Taj Mahal.
"The Indian doctors, they did such a fine job here, and took care of us so well", said Staab, a gentle, ponytailed bicycling enthusiast who was accompanied to India by his partner, Maggi Grace. "I would do it again".
Staab is one of a growing number of people known as "Medical tourists" who are traveling to India in search of First World health care at Third World prices. Last year, an estimated 150,000 foreigners visited India for medical procedures, and the number is increasing at the rate of about 15 percent a year, according to Zakariah Ahmed, a health care specialist at the Confederation of Indian Industries.
Eager to cash in on the trend, posh private hospitals are beginning to offer services tailored for foreign patients, such as airport pickups, Internet–equipped private rooms and package deals that combine, for example, tummy–tuck surgery with several nights in a maharajah's palace. Some hospitals are pushing treatment regimens that augment standard medicine with yoga and other forms of traditional Indian healing.
The phenomenon is another example of how India is profiting from globalization the growing integration of world economies just as it has already done in such other service industries as insurance and banking, which are outsourcing an ever–widening assortment of office tasks to the country. A recent study by the Mc Kinsey consulting firm estimated that India's medical tourist industry could yield as much as USD 2.2 billion in annual revenue by 2012.
"If we do this right, we can heal the world", said Prathap C. Reddy, a physician who founded Apollo Hospitals, a 6, 400 bed chain that is headquartered in the coastal city of Chennai and is one of the biggest private health care providers in Asia.
The trend is still in its early stages. Most of the foreigners treated in India come from other developing countries in Asia, Africa or the Middle East, where top–quality hospitals and health professionals are often hard to find. Patients from the United States and Europe still are relatively rare not only because of the distance they must travel but also, hospital executives acknowledge, because India continues to suffer from an image of poverty and poor hygiene that discourages many patients.
Taken as a whole, India's health care system is hardly a model, with barely four doctors for every 10,000 people, compared with 27 in the United States, according to the World Bank. Health care accounts for just 5.1 percent of India's gross domestic product, against 14 percent in the United States.
On the other hand, India offers a growing number of private "Centers of excellence" where the quality of care is as good or better than that of big–city hospitals in the United States or Europe, asserted Naresh Trehan, a self–assured cardiovascular surgeon who runs Escorts and performed the operation on Staab.
Trehan said, for example, that the death rate for coronary bypass patients at Escorts is 0.8 percent. By contrast, the 1999 death rate for the same procedure at New York – Presbyterian Hospital, where former president Bill Clinton recently underwent bypass surgery, was 2.35 percent, according to a 2002 study by the New York State Health Department.
Escorts is one of only a handful of treatment facilities worldwide that specialize in robotic surgery, which is less invasive than conventional surgery because it relies on tiny, remote–controlled instruments that are inserted through a small incision.
"Our surgeons are much better", boasted Trehan, 58, a former assistant professor at New York University Medical School, who said he earned nearly USD 2 million a year from his Manhattan practice before returning to India to found Escorts in 1988.
Although they are equipped with state of the art technology, hospitals such as Escorts typically are able to charge far less than their U. S. and European counterparts because pay scales are much lower and patient volumes higher, according to Trehan and other doctors. For example, a magnetic resonance imaging (MRI) scan costs USD 60 at Escorts, compared with roughly USD 700 in New York, according to Trehan.
Moreover, he added, a New York heart surgeon "Has to pay USD 100,000 a year in malpractice insurance. Here it's USD 4,000".
In addition to patients from other developing countries, top Indian hospitals derive a significant share of foreign business from people of Indian origin who live in developed countries but maintain close ties to their homeland. But the same hospitals now are starting to attract non–Indian patients from industrialized countries, and especially from Britain and Canada, where patients are becoming fed up with long waits for elective surgery under overstretched government health plans.
"If you can wait for two years for a bypass surgery, then you don't need it or you're dead one of the two", Trehan said. "Similarly, if you're wobbling on your frozen joints for two years because of a waiting list, it's a human tragedy".
One such patient is Tom Raudaschl, an Austrian who lives in Canada and earns his living as a mountain guide. Suffering from osteoarthritis in his hip, Raudaschl last year decided to undergo "Hip resurfacing", a relatively new procedure that involves scraping away damaged bone and replacing it with chrome alloy. He learned he would have to wait as long as three years if he wanted to have the operation under Canada's national health plan, a delay that would have cost him his job, Raudaschl said. In the United States, the procedure would have cost USD 21,000, he said.
So this month, Raudaschl flew from Calgary to Chennai, on India's east coast, where a surgeon at Apollo Hospital performed the operation Wednesday for USD 5,000, including all hospital costs, Raudaschl said by telephone from his hospital bed.
"As soon as you tell people that you're going to India, they frown", Raudaschl said. But he said he could not be more pleased with the service.
"They picked me up at the airport, did all the hotel bookings, and the food is great, too", said Raudaschl, whose private room was equipped with Internet service, a microwave and a refrigerator. Most important, Raudaschl said the surgeon told him he would be "Skiing again in a month".
To cope with its backlog of cases, Britain's National Health Service has begun referring patients for treatment to Spain and France, although for now, the health service limits referrals to hospitals within three hours' flying time, according to Anupam Sibal, a British–trained pediatrician and Apollo's director of medical services.
"Nobody even questions the capability of an Indian doctor, because there isn't a big hospital in the United States where there isn't an Indian doctor working", he said.
Before they would admit him for surgery, Staab, the heart patient, said hospital officials at Durham Regional Hospital asked for a USD 50,000 deposit and warned that the entire cost of treatment could run as high as USD 200,000.
Katie Galbraith, a hospital spokeswoman, confirmed in an e–mail that hospital costs in such cases typically are in the neighborhood of USD 100,000, the surgeon's bill, which is charged separately, would have added tens of thousands more. Patients such as Staab who do not qualify for charity care often are offered a payment plan, she said.
Staab was discharged from the Indian hospital Monday and was recuperating at a nearby hotel. He planned to return to Durham after visiting the Taj Mahal.
Articles
YaleGlobal Online
citing India as a popular destination for medical treatment.
Aarogya.com partners with the top travel agency to offer you a comprehensive medical cum holiday package.
For further information you can mail us at
This email address is being protected from spambots. You need JavaScript enabled to view it.
By John Lancaster
Washington Post Foreign Service
Thursday, October 21, 2004, Page A 01
Farmer
Large masses of the Indian poor continue to fight a hopeless and constantly losing battle for survival and health even sixty years after India's independence. The war begins even before birth, as malnourishment of the mother reduces life chances, while the fetus is still in the womb. Only the most sturdy survive subsequent onslaughts of unsafe and unhygienic birth practices, unclean water, poor nutrition, sub–human habitats and degraded and unsanitary environments. With little or no access to health care, the grim battle continues into adulthood, until precarious survival once again spawns a fresh cycle of birth and struggle.
It is not that nothing has been achieved in these sixty years. The first landmark in official health policy of Independent India was the acceptances of the Bhore Committee recommendations of 1946, which laid the foundations of comprehensive rural health services through the concept of
primary health care
.
Primary health centers (PHCs)
came up in the country side from 1952 onwards, population control came center stage from the mid–1960s, sanitation and drinking water programs were launched from the fifth five year plan, the
integrated child development program (ICDS)
, integrating nutrition and health inputs for preschool children and pregnant and lactating mothers, was started in 1975, the multi–purpose health workers scheme started in 1971, the community health guide scheme in 1977 and a package of minimum needs programs was launched from the early 1980s.
There has been a significant extension in health infrastructure, the number of PHCs increasing form 725 to 21024 between 1956 to 1993 and subcenters from 28,489 in 1971 to 1,31471 in 1993.
Under the cumulative impact of these measures and a host of programs for livelihood, nutrition and shelter, life expectancy at birth rose from 33 years at Independence to 61 years in 1992. Infant mortality (IMR) declined from 146 per 1000 live births in 1961 to 74 in 1993, Under five mortality rate (U5MR) declined from 236 per 1000 live births in 1960 to 109 in 1993. The IMR and U5MR are accurate indices not only of child survival, but of the availability of livelihood, nutrition, safe drinking water, sanitation, health services and health and status of women in society.
These achievements appear significant, yet it must be stressed that survival rates in India are comparable even today only to the poorest nations of sub–saharan africa. of 25 million children born in India every year, nearly 2 million die before reaching the age of one, and most of these deaths are avoidable. Many are disabled or blinded by polio, vitamin a deficiency and malnutrition. Tuberculosis, a preventable and curable disease, still claims 5 lakh lives each year, in conditions of acute poverty and deprivation. Of the 16 million tuberculosis cases worldwide, 12.7 million are in India. Waterborne and water related diseases like diarrhea, typhoid, cholera and infectious hepatitis account for 80 percent of India's health problems, and every fourth person dying of such diseases is an Indian. Every third person in the world suffering from leprosy is an Indian. The menacing resurgence of epidemics, in which state authorities watch helplessly as hundreds, even thousands die of medically preventable and curable diseases, reflects the extent of degradation of our public health services.
Though this section has be categorized as "Insurance", it has information covering advance care planning, telemedicine, research, medical ethics and the like. However health insurance has been covered in greater detail. Information on various insurance plans and health care insurance plans help a visitor take an informed decision whilst choosing health insurance.
A common thread running through all human race is a fear of the unknown. Life is fragile and this bedrock principle drives us to protect ourselves. We try and fix the situations we can control so that we are better prepared for the situations we can't... This fear of the unknown has made Insurance one of the largest and most successful industries in the world.

At the end of the day, Insurance is merely an attempt to anticipate an unfavourable event. There are many different types of insurance covers available worldwide for the general public. Specific to India, Insurance can be broadly categorized into two sections: Life Insurance and General Insurance.

What is Life Insurance?
Life Insurance policies cover and protect us from incidents and risks beyond our control. These come into effect in the event of the passing away of the policy holder whereby the insurance company provides the due money to the benefactor of the policy. It could be a spouse, parent or children of the deceased.

What is General Insurance?
Unlike Life Insurance, General Insurance does not offer returns but protects us against emergencies and unexpected events such as illness, accidents, natural calamities, thefts etc. It has many sub categories from travel insurance, householder insurance to auto insurance, shopkeepers insurance, personal accident insurance and even pet insurance… A large chunk of this pie is health insurance.

Health insurance provides us cover against the medical care costs arising from disease or accidental injuries. It is a crucial financial product that every individual must have irrespective of their age as it allows us to focus on getting the best treatment without bothering about the financial costs incurred.

How does Health Insurance work?
The mechanics of health insurance are really quite simple. Based on the insurance policy you paid for, you can get reimbursed for part or whole of the medical costs of treating the disease or injury. This is inclusive of hospitalization, doctor's consultation fees, nursing costs, medicine etc. Most health insurance policies, however, do not cover regular medical expenses, outpatient care and daily medication.

You can buy health insurance for yourself as an individual or for your whole family. To buy a policy, an annual fee or premium must be paid to the insurance company. You can decide the amount of policy coverage and pay a corresponding premium. The more the coverage, the higher the insurance premium.

If you happen to fall ill, the insurance company is duty bound to reimburse you for the complete amount of your policy. This can be a one-time expense or it can be broken down into multiple payments depending on your needs. For example, lets say you have a health insurance policy that covers you for Rs. 100,000. If you fall ill, you can receive up to Rs. 100,000 from the insurance company. If you need the money in smaller quantities over a period of time, the company will release it accordingly.

These payments from the insurance company can be received in two ways, again depending on the terms of your policy. You can pay the hospital all your medical costs and claim the payment from the company at a later date. Or you can get a cashless settlement. This means that if you are treated in a hospital approved by the insurance provider, your bills will be settled directly between the insurance company and the hospital.

A positive outlook in life goes a long way to keep us healthy and fit. But along with an optimistic viewpoint, it is important to protect ourselves from unforeseen situations. So get insured to keep yourself and your family covered…
Continuing with our spotlight on health insurance in India, this is the first in a series of articles that looks at the major players in the health insurance industry. While it is best to check with an insurance agent about the latest details of all offers, here you can get a general idea of what most insurance companies have to offer an interested customer…

All these companies offer a vast variety of policies ranging from life insurance to your child's education, travel and many more. We will focus on their health insurance offers.
Doctors have certain obligations towards their patients, and society at large. The doctor, who is entrusted with the duty of guarding the life and health of the members of society, is expected to do his job with a sense of responsibility. A doctor finds himself in a position in which he could easily misuse his special capacity for his own interest at the cost of others. Society and the state cannot possibly allow this to happen.

For this, doctors have to follow certain principles while practising their profession, in addition to the rules and legislation framed by the state.

When the doctor causes harm to his patients intentionally, these laws come to the patient's rescue, and if the doctor is found guilty, he has to face legal prosecution.

Hence, it is very necessary that doctors know and follow the provisions contained in the legislation. Also, the doctor should be well versed with his own rights as well as duties and obligations to his patients in particular and society at large.

For this purpose, it is essential that doctors themselves adhere to basic ethics and etiquettes in their practice.

Medical ethics means moral principles that ought to guide doctors in their practice of medicine and in their dealings with their patients and other members of their profession.

Medical etiquettes would be essentially limited to the mutual relationship between members of the medical profession. It actually means courtesy and respect, which ought to govern the conduct and relationship between members of the medical profession.

Contributed by
Dr. R.S.Bangal
MD, DNB, LL.B.
Associate Professor,
Forensic Medicine & Medical Jurisprudence
Grant Medical College and J.J.Group of Hospitals,
Mumbai
Telemedicine
Telemedicine can deliver health–care services, where distance may be the critical factor. The health care professionals by using information and communication technologies, can now access or exchange information for diagnosis, treatment and prevention of disease and injuries. The new age concept also provides for the
continuing medical education
among health care providers as well as allows for research and evaluation, all in the interests of advancing the health of individuals and their communities.
Telehealth
is a sub–concept of Telemedicine and refers to 'The use of telecommunication technologies to make health and related services more accessible to health care consumers and providers in rural, or otherwise areas with underprivileged health–care resources'.
More concisely, Telehealth services aim at maintaining the 'Wellness' of society or improving the general health of society. The common element in both definitions is the use of telecommunications. Telehealth can be distinguished from telemedicine in the sense that the former is the provision of a service to those who are at a distance from the service provider, but who are not necessarily ill or wounded, who are already well and want to stay that way by following healthy practices of diet, nutrition, exercise etc, and by taking steps to avoid illness and disease, for example, in regard to sanitation. Telemedicine can be regarded as an example of the use of 'Telematics for health'. 'Telematics for health', however, has a broader scope since it also includes informatics or information technology and aims at improving the efficiency of health–care, even within a single hospital or health administration.
Telemedicine and World Wide Web
With the intensification of computer literacy, more and more people are interacting with each other, by using a common shared medium in search of information and resources. Internet access serves as the prime approach to information–sharing across two different ends of the world with the use of computer terminals. The Web can serve as an effective and economic medium for the application of telemedicinal activities. Most of the Medical Universities and Colleges can link up databases and critical information on a secure server, which can be accessed by health professionals world wide for analytical consultation. The use of Web also reduces the time involved in transfer of information (records of patients or reports of routine health analysis) either from one department in the hospital to another or between two doctors. Similar kinds of facilities are in use by several medical authorities in the west.
Euthanasia
The euthanasia theme keeps coming back for public approval like a recurring decimal. Dr. Kannamma Raman has accurately put forward the pros and cons. She has made a fair case of the positions taken by each side. However, when each side has a stand that is unable to accept the first principles or major axioms of the other, the polarization is complete. It seems that all that is left is for the reader to accept the one and reject the other. The purpose of this piece is not to force the issue, but rather to make a few points that may help to elaborate the stands taken to help in a better understanding of some points of view.
Death
Death has its terrors and is seen in different perspectives. Kubler Ross has outlined the various phases through which most pass when death stares them in the face. What comes after death is really the most worrisome and pertinent factor exemplified in Hamlet's deliberations:
"To die – to sleep – To sleep! Perchance to dream; Ay there's the rub; For in that sleep of death what dreams may come, when we have shuffled off this mortal coil. Must give us pause – there's the respect that makes calamity of so long life."
The answers to questions on euthanasia are often shaped by beliefs inculcated from childhood by culture and religious persuasion. In the euthanasia debate, terms are often used that confuse issues, generating more heat than light. Polls are conducted and results cited to indicate a majority claim. Yet, the actual questionnaires show that very often, the real tilting factor is a lack of clarity in the fundamentals, or ambiguity in the terms used.
Definition of Euthanasia
The term 'euthanasia' itself, clouds the issue. Looked at from its Greek derivative, meaning 'good death'.
Who can deny that it is indeed an object worthy of any sane person's desire?
In the early part of this century it has been used by some as an omnibus term to signify a good or painless death. In fact it is a deliberate euphemism, replacing 'mercy killing'. With the latter term, one is made aware of the fact of a direct killing. The motivating factor of mercy only makes the plea for compassion to reduce the culpability of the action.
If we are to make it clear, 'euthanasia', in common usage means an act of omission or commission which directly causes the death in a painless manner. It implies the procuring of an individual's death, so as to avoid or end pain and suffering, especially of individuals who have some chronic and incurable disease. It thus eliminates or even preempts those factors or conditions that are held to militate against the 'good' of the person. This 'good' is an extremely subjective factor. Those favoring euthanasia, elaborate on the various parameters and safeguards that can be put up to avoid misuse. Hence, of course, there is the justification for the dangers of the 'slippery slope' between its definition and its usage.
Research
The general opinion of most physicians is that any complex system like the human body, can be best associated through knowledge of its most elementary parts. However, sometimes a more holistic approach needs to be taken. There are certain parameters which define well being – psychological, social and cultural determinants, which taken together can portray the health of an entire community.
In developing countries where even access to the most basic health care facilities is lacking, research sometimes has to take on the role of spreading awareness. Such research can be directed towards rural areas where it can benefit the masses directly, rather than waiting for the trickle down benefits of technology to reach a rural community.
For instance, the King Edward Memorial Hospital (KEM), Pune continues research work in rural areas with programmes like family planning and abortion in rural India, pregnancy, and other ailments of the rural poor. The continuance of such research is instrumental in spreading awareness both within the rural and urban populace.
Life is full of uncertainties, one never knows as to what is going to happen next. With the streets being what they are, and with traffic jams galore! not to mention the perennial snarls!! The less said about our sense of direction or "Road Sense" the better.
People blissfully jaywalking, the traffic police conveniently looking the other for a "small consideration" of course! The sordid fact is that one can literally walk away, flouting all the rules. It is certainly imperative to get one's life insured, not just for your sake, but also for the sake of the ones' you love as well. We have two major
Insurance Companies
namely :
The Life Insurance Company of India. (LIC)
The General Insurance Company of India. (GIC)
Whilst LIC deals with insurance for life coverage only, the GIC deals with the other aspects of insurance,namely health. GIC has four sub–branches covering health.They are:
The New India Assurance Co. Ltd.
The National Insurance Co. Ltd.
The Oriental Insurance Co. Ltd.
The United Insurance Co. Ltd.
The above four companies are subsidiaries of the parent company namely:
The General Insurance Co. They have a wide insurance coverage, ranging from automobiles, house–hold items, baggage, cargo, maritime, theft fire etc. Highlighting the health aspect of Insurance and its coverage, we have:
The Personal Accident Insurance.
Mediclaim.
The Personal Accident Insurance Policy covers individuals and/or their families with insurance coverage, the details of which are mentioned below. Considerate amounts are being paid by the Insurance Companies to the Insured, in the unfortunate event of any disablement or death, all depending on the amount for which the Individual has been insured (also known as the Capital Sum). If for convenience sake, an individual is insured for a sum of Rs. 1,00,000/– In the event of death or disablement, the following benefits will be offered
Benefits
| | |
| --- | --- |
| Death only | Rs. 1,00,000/– |
| Loss of two limbs, two eyes or one limb and eye | Rs. 1,00,000/– |
| Loss of one limb or one eye | Rs. 50,000/– |
| Permanent Total Disablement (PTD) from injuries other than those named above. | Rs. 1,00,000/– |
| Temporary Total Disablement. (TTD) | Rs. 1,000/– per week. |
| Not exceeding | Rs. 3,000/– per week. |
Various other benefits as mentioned above, are extended in various other categories of disablement. They cover family members ranging from the age limit of 5–70 years. The coverage is world–wide There is a cumulative bonus offered for non–claimant and also renewal of policy within 30 days of expiry.
Medical Jurisprudence
"Medicolegal"
is the term, which incorporates the basics of two sister professions i.e. Medicine and Law. Everybody talks about "the law" but few, aside from lawyers, judges and law teachers, have more than the vaguest notion of what constitutes "law". The average layman often has about as much accurate information about "the law" as he has about medicine–or life on Venus. And, unfortunately, two professional groups suffer from more ignorance of law and medicine than is good for them: lawyers, at least those who do not constantly deal with medical issues in their legal practice, know very little about the medical profession and its problems, physicians frequently comprehend too little about the law and how it affects them in the practice of their profession.
Medicolegal experts can provide a link between these two professions for their smooth & effective functioning in a scientific manner. The physician meets the law at every turn. He confronts it when, as the treating doctor, he is subpoenaed as a witness in a personal injury lawsuit, he meets it when his aid is sought as an expert in connection with a claim that another member of his profession has been negligent and when he is faced in his office or clinic by a narcotic addict, a man with a gunshot wound, or a young couple seeking a blood test. He is face–to–face with the law when he is required to render an aggravating array of governmental reports or to preserve physical evidence for the benefit of a law enforcement agency. The physician, in fact, finds a great deal of the law intensely irritating, often because he is not absolutely clear as to its purpose.
The following subjects deal with all the above aspects of Law and medicine.
Forensic Medicine
Medical Jurisprudence
Toxicology
The terms Forensic Medicine and Medical Jurisprudence are used in the practice of Law and Medicine respectively. These two terms are not synonymous.
This section was created in response to the numerous queries we received on the topic of sex and sexuality. The idea was to explain issues related to pregnancy, sexual problems and explain common myths and misconceptions.


Sex & sexuality
The word "SEX" somehow always tends to raise more than a few eyebrows. It is a topic which is not openly spoken of. In our section on Sex and Sexuality we provide you with information which can equip you with the knowledge of a having a healthy mind and body within the realms of sex. There have been studies where both men and women were asked what came to their minds in response to the word SEX.
Man – "Fun, playful, ecstasy, hot, spontaneous and exquisite".
Woman –"Serious business".
These two very varied answers are exaggerations and cannot be literal. Yet they do bring out the state of mind of both the sexes. It shows the extremes at which their interpretations of sex are. The woman thinks of sex as being serious business, showing her lack of pleasure and enjoyment. The man however thinks of it as hot and ecstatic thus depicting his lack of responsibility and respect toward the intimacy of the experience. However, these preconceived notions of sex are what our brain believes them to be. We get our ideas from various mediums like, TV, movies, music, jokes, from friends and family, and then we combine and assimilate all of what we believe to be true and thus form our own myths. One needs to however, sort out the truth and the hearsay.
Sex & sexuality
Sex therapy
, is a medium and a study which is used to help people accept and increase enjoyment of their sexuality. It is based on the ideas that sex is normal and good, that relationships can be meaningful, and
sexual intimacy
is a normal goal. It also gives you the powerful tool of knowledge, equipped with which one can lead a full and satisfied life.
Sexology
is a forum for discussion and analysis of ethical, cultural, psychological, social, and political issues related to
sexual relationships
and sexual behaviour. An individual's sexual orientation–whether homosexual or heterosexual–is an essential part of sexual health and personality which strongly supports the right of each individual to accept, acknowledge, and live in accordance with his or her orientation.
Sexual orientation
is one's erotic, romantic, and affectional attraction to the same gender, to the opposite gender, or both. A person, whether man or woman, has the right to choose and express his sexual orientation. Sometimes your partner might push you to become sexually active. Knowing your values and deciding what it is that you want will help you in this situation. It should also be understood that if someone carries a condom, it does not mean that they are "Easy" or expect "Action". It simply means that the person is being prepared for protection, if he/she decides to indulge in
sexual intercourse
. In fact, it is advisable to carry protection and to avoid engaging in unprotected sex.
Sex is an expression of feelings, thoughts and emotions. The mature understanding of this is what makes an adult. One does not need to shudder or feel embarrassed when the topic is brought up.Our sexuality is a part of us and should never be suppressed or ignored. The choices an individual makes is a reflection of himself – let your foremost be "Awareness".
A lot of stigma and taboo is attached to Sex Education. Sex is not about promiscuity. It is not obscene nor should it be considered a threat to 'Indian values'. Sex Education in schools should help students, specially teenagers to understand the process and implications of sexual maturity, including the emotional, social and moral behaviour of early sexual activity.
Sexuality education is a process of obtaining information towards understanding and forming attitudes about relationships, sexual behaviour, reproductive health and gender roles and their behaviour. Sex education addresses the biological, socio–cultural, psychological, and spiritual dimensions of sexuality while taking into consideration respect towards cultural, ethnic and religious differences.
Sex education in the school curriculum can enlighten and allow young people to make informed discussions as ideas will manifest in ways that are positive and negative during childhood, this being an important aspect of adolescence.
Topics taught at primary school level are usually about relationships and family, growing up, the body and puberty before it begins. Schools can work with parents on how they would teach these topics.
Older children and teens should learn biological aspects of human reproduction, anatomy, puberty, properties of hormones and their association with fertility and how viruses can affect human health. Information about sexually transmitted infection (STIs), HIV/AIDS and subjects such as drug and alcohol awareness should be minimally taught.
Before conducting these programmes the following should be taken into account:
The average age of children, their understanding and stage of development in a particular standard and grade.
Work in partnership with parents
Ensure procedures are in place to receive and address parents' concerns.
Consult with pupils
Respect the different circumstances and needs of all young people
Topics to be considered:
preparing both boys and girls for puberty
preparing girls for menstruation before their periods start
access to and information about contraceptive information, guidance and confidential services
moral and emotional aspects of abortion and how to access a doctor or hospital when necessary
risk of STIs, including HIV/AIDS, and information about prevention, diagnosis and treatment
why safe sex is important
Relationship issues:
developing an understanding of healthy relationships
developing coping strategies to deal with challenging relationship issues
exploring the qualities of relationships, including friendship
assessing and managing risk in real–life relationships
learning about the roles and responsibilities of parenting
When you come across a happy looking couple, the first thing that strikes you is how happy it looks. It does not matter how long they've been together, you imagine them to have stayed in love in good times and bad. People wonder how such couples manage to stay this way. Are they lucky? This happens only through trust and commitment. They believe that to have a healthy relationship they have to work towards it. Here are some probable secrets:
Married Women
Honesty is vital: There should be no mistrust between partners as that is enough to break a relationship. Always tell him/her everything so that he/she doesn't ever question your sense of integrity.
Have a practical vision of committed relationships: You need to know that infatuation is not going to last long. It is serious commitment that stands a chance of making the relationship stronger, deeper and richer.
Respect your partner: If you treat your partner with respect, you will also get respect in return. You should keep on telling your partner how much he/she means to you. And don't take him/her for granted, ever.
Work on the bond: A couple should always communicate with each other in important matters and clear misunderstandings immediately.
Don't expect your partner to change: Stop trying to change your partner. This will help you avoid most arguments.
You should adjust to your partner and give him/her what he/she wants. By doing this, you will avoid arguments. This may seem a little difficult in the beginning, but will definitely help you.
Communicate: Communicating with your partner is very vital. First, listen to your partner and try and put yourself in his/her shoes. Then let him/her express his/her thoughts without interruption. You may sometimes also accept few things and bend a little. By doing this you are likely to come up with some solution to the problem.
Spend time together: You have to share time with your spouse, no matter what. When you plan some time to be alone, away from the kids, pets, other members of the family, it is welcome as it is likely to help form stronger bonds.
Spend some time alone: It is always very important to spend some time without each other's company. You should have some separate interests and activities so that when you come back together, you have so much to share with each other. You will realize the importance of your partner only when you actually begin to miss him.
Take advantage of differences: You need to pay attention to this aspect. There might be some qualities that attracted you to your partner and those may be the ones which drive you crazy now. Stop and think. Take a fresh look at these differences. Try to look at the positive aspects of it. It may help you in balancing the differences and in turn help your relationship become more healthy.
You may think this is not going to be easy. But, you have to be patient and make all possible efforts to maintain a good and happy relationship. A couple enjoys independence, freedom and spontaneity in their life till the arrival of their new born. The baby can have a tremendous effect on their passionate relationship. Their days and nights become full of baby cries, changing diapers and sleepless nights. They both start arguing about who's turn is it to get up at night with the baby. It is therefore important to keep the intimacy between you and your partner alive. Its not that you can not have romance in your life because of your child. You have to work for that. You may need creativity and communication. But lets discuss why this happens so.
What Turns you Off
There are various reasons that may affect the intimacy between you and your partner.
Your hormones
You may suffer from postpartum depression due to significant drop of estrogen and progesterone after childbirth and this could interfere with your sexual drive. This depression may differ from individual to individual and it lasts for few days to six weeks after birth.
Low energy
You tend to have natural anxiety about the new delicate life. There are sleepless nights due to the demands of your newborn, like breast feeding and changing diapers, etc. All this takes up the energy that you need to have a intimate relationship with each other.
Physical discomfort
A woman experiences certain amount of discomfort even after childbirth. The body needs some time to restore the damages that take place during the birthing process and the changes that the body has undergone during pregnancy like engorged breasts, healing of caesarean section wound in case of caesarean birth, tender vagina etc. Pain associated with these may be aggravated during sexual intercourse.
Need for privacy
When it's just the two of you in the house, you get used to the freedom of making love whenever and where ever desired. But with the baby around, that is no more the case. Even though you know that the baby is not aware of your sexual acts, it can make a difference.
What Turns You On
We agree that love, romance and sex may be the furthest thing from your mind as you have too much on your hands. However, if this 24-hour job is casting clouds over the relationship you once shared with your spouse, just relax! Here are some suggestions for moving towards a healthy sexual relationship as new parents.
Take your time
Most of the gynaecologists advice to take time to recover from all the pains a woman experiences during childbirth. Do not be in a hurry for sexual activity till your body permits and is comfortable. It is advisable for a new mother to give herself a period of at least two months to completely recover mentally as well as physically.
Do not resent the child
You have to work together as a family and understand that your bundle of joy will definitely have some change on your romantic life. By doing this you will get more comfortable and adjust with the situation and won't resent your child.
Get a life together
As new parents you both have different roles and new responsibilities. You should not neglect your spouse. Now you have to take care of each other as well as your new baby.
Communicate
Always communicate with your partner as it will help you nurture a healthy relationship. Start having an honest and open communication quite before the baby's arrival. This will help you to get over your frustrations.
Exercise
Exercise regularly. This will keep you fit and help you in your sex life. Try doing exercises which involve tensing of muscles around the vagina and anus. Ask your gynaecologist for further information on such exercises.
Don't share your bed with the baby
Do not let your baby sleep with you and your husband in the same bed. Apart from the risk of suffocation, it will be difficult for you to break the habit. This will also give you and your spouse to be more intimate with each other.
Be creative
You can always express your love to your partner in many different ways. You can give company to your wife when she has to get up in the night to feed the baby. You can always make interesting talk with her and thus keep the passion alive.
Lubrication
After the delivery there is alteration in the hormonal levels due to which there is dryness in the vaginal area. You can use lubricating vaginal creams or KY Jelly etc.
Try different positions. This will give you the opportunity to explore new methods of lovemaking.
Keep a little understanding and patience and you will realise that it is not so hard to see love, sex and romance return in your life after becoming new parents. A little effort from both will help you in getting your intimacy back.
What is an ideal length of the penis to satisfy a woman?
Ans. A woman's satisfaction in the peno–vaginal intercourse does not depend on the length of the man's penis, but rather on the man's skill to excite her. A man needs to know that only one to two inches of the woman's vagina are really sensitive to frictional pleasure of intercourse. The sexual muscles as well as the sexual nerves are related to this part of the vagina. Hence, even if the length of the erect penis is around two inches, it will be enough to give frictional pleasure to the woman. In short there is no ideal length of the penis. That is why it is said that in case of the penis size does not matter.
What should be an ideal thickness of the penis to give pleasure to a woman?
Ans. Even though the length of the penis does not matter in the sexual pleasure of the woman, some women do suggest that the frictional pleasure intensifies with the thickness of the penis. The feeling of the fullness gives psychological satisfaction to such women. It is usually true that more the girth of the penis, the more these factors play their role. However, it also depends on the woman's sexual muscles. The lesser the muscle tone, the lesser is the grip on the penetrated penis. Hence, a woman with lesser muscle tone feels good with a thicker penis.
How much should be the hardness of the erect penis for the penetration in the vagina?
Ans. It is a wrong notion that a penis should be rock–hard for penetration. Even if it is partially erect, it is capable of penetrating the vagina. It requires the vagina to be moist and the woman's cooperation for pushing it by holding it at its base. It is called the Stuffing Technique. Once inside the vagina, the penile erection improves due to the wetness and warmth of the vagina as well as frictional movements.
How can the length of the penis be increased? Does it depend on the physique of the man?
Ans. As mentioned earlier, the length of the penis does not matter in the sexual pleasure of the woman. But due to deep–rooted notions, many opt for penis–lengthening surgeries and that too at exorbitant costs. This is really not needed. Moreover, the weakening of the sexual muscles during surgery can affect the quality of the erection and the sexual fitness which depends so essentially on them. The dimensions of the unexcited penis depend on the quantity of the blood present in its cavernous tissue. However, those of the fully erect penis depend on the characteristics inherited. Hence, every man has his own characteristic phallus (erect penis). The physique of the man and the characteristics of his phallus have no relation whatsoever. These two aspects are governed by two different sets of genes–somatic and sexual.
Does the length of the erect penis depend on that of the unexcited (loose) penis?
Ans. No. As mentioned above the erect penis is always characteristic of the man and the size of the unexcited penis depends on the collapsible state of the cavernous tissue and the quantity of the blood trapped in it.
How does erection of the penis take place?
Ans.Erection of the penis is basically a hemo–dynamic process. The penis contains three tubes that are filled with the spongy cavernous tissue and ample small blood vessels. As the blood gets filled in these tubes of the penis, the spongy tissue expands and the tubes get elongated. The sexual perineal muscles contract and the penile erection takes place.
Why is every erection not necessarily firm (or hard)?
Ans. The hardness of the erection of the penis depends mainly on the quantity of the blood present in the penis as well as on the contraction of the sexual muscles (ischeo–cavernous) present in the perineum region at the base of the penis. If one of the factors (or both) are not up to the mark, the problem of the firmness of the penile erection is noticed or experienced.
Support groups have tremendous value in helping a patient. Especially, in the Indian context, where the doctor patient ratio is so skewed. Even otherwise the value of sharing one's experience strength and hope with another is unparalleled. The epilepsy and addiction support groups are examples of active and vibrant communities making a difference.
Support groups can come in many different forms. One support group started by author and activist Jennifer Tresh is the Elena Tresh foundation for children with terminal illness. The foundation is named after her daughter and her unforgettable fight with cancer at a startling early age.
The Times of India
22 September 2008
By Chitra Nair
Stumbling in the Dark
The world marked Alzheimer's Day on Sunday, but a woeful lack of awareness and government funding impede the treatment of the disease in the city
As the world observed Alzheimer's Day on Sunday, and as we struggle to find out more about the disease, lack of awareness in the country continues to be a major hurdle to its treatment. Alzheimer's is a progressive degenerative disorder in which the nerve cells of the brain are destroyed and the brain substance decreases. It was first discovered and described by German neurologist Alois Alzheimer in 1906.
"Today, we can regard Alzheimer's as the most common form of dementia (disorder of the mental processes) that has no cure. Unlike other forms of dementia like multiinfarct dementia, Alzheimer's is a disease in which the patient's condition only worsens. On the other hand, multi–infarct dementia is a step and ladder disease in which the patient's condition gets worse one day and better the next," says psychiatrist Biswaroop Dey.
Dey runs a rehabilitation clinic for dementia patients in the city. According to him, between 1 to 2 per cent of the city's population suffers from Alzheimer's, but a majority of the cases go unreported. "There are two main reasons for this, a lack of awareness and a general refusal to accept that you or someone in your family might be suffering from the disease," says Dey. It is also important for family members to be able to recognise symptoms of Alzheimer's.
The cost of treatment also deters people from seeking medical help. "The daily cost of medicines can be as much as Rs 50 and above. What makes the situation worse is the that there is no government help for these patients and neither is there any insurance," he says.
Dey also tries to dispel various misconceptions regarding the disease, the primary one being that it affects only the elderly. "While it normally afflicts those over 60, today, even 30–year–olds are being affected by it," says Dey. There are many reasons for this. While a family history of mental illnesses is one of them, pollution, a bad lifestyle, food habits and the degeneration of the joint family, are also indirect causes. Interestingly, urban areas of the country have higher incidence of the disease.
"A recent study by a joint team from Indian and American organisations conducted by the Jaipur University on Alzheimer's in South East Asia found that while rural north India had the least incidence (only 1 percent of cases), Chennai accounted for 2.7 per cent cases," says Dey.
Prompt consultation can help doctors in helping patients. "Alzheimer's cannot be treated and once diagnosed with it, the patient has only 4 to 10 years of life. But with prompt treatment, this can be prolonged to upto 12 – 15 years," says Dey.
Dey lists increased funding for the department of mental health as an urgent need. "Besides, if the government helps medical professionals, we will be able to improve facilities and also start more rehabilitation homes. In my own case, funding for the rehabilitation clinic is still an issue. What helps is that I have a pharmaceutical company financing me," he says.
Dey reiterates that raising public awareness about the diseases is of utmost importance. There are around 150 psychiatrists handling Alzheimer's patients in the city, says Dey. "But if people are hesitant to approach them for treatment, what can be done?" he questions.
Identifying the symptoms
Loss of memory, especially of recent events or information.
Difficulty in speaking and writing or performing usual tasks.
Disorientation related to time and place.
Behavioural abnormality.
Helping hands
Pune does not have a self–help or support group for people suffering from Alzheimer's. Yashoda Wakankar, the secretary of SETU – the Association of Self–Help Groups, appeals to caregivers and relatives of patients of Alzheimer's to come together so that the association can help them start a self–help group. "Our association aims to help selfhelp groups solve their problems. We assist them in setting guidelines and also hold counselling courses for team leaders," she says. Caregivers and relatives can get together to share problems, help each other, and, importantly, create awareness about the disease. Wakankar can be contacted on +91 9822008035.
The Alzheimer's and Related Disorders Society of India has its Mumbai chapter at the J.J. Hospital. The society's helpline number is +91 22 23513253.
Myths
Only older people can get Alzheimer's In fact, people as young as 30 can be affected. It all depends on your lifestyle
Alzheimer's is not fatal Alzheimer's is a disease in which the brain cells slowly die.
A heart attack can bring about massive changes in a person's life. While some wallow in self pity and do nothing about it, other's take their health in their hands. At the Poona Club, about 20 cardiac patients meet every morning from 7am to 8am, and religiously follow instructions from their yoga and aerobic teacher.
To them a heart attack means bringing about lifestyle changes, about leading a disciplined life and about understanding the way their bodies work. And yes it also works wonders for their
heart disease
. This group of committed patients not only help themselves, but also offer support to each other by sharing their experiences, their feelings and their lives in general.
Here they share their experiences with heart disease and are willing to extend their support to any other patient who may need it.
For those who also need to know about funding and finances involved, another organisation called Hriday Mitra Prathisthan takes this "Heart activism" further by finding ways and means by which to help people awaiting heart surgery.
What is depression? What would be a working definition of the word. It is a mental state that is characterized by excessive sadness, feelings of sorrow and despair. Indeed, one's normal course of life could be thrown out of gear by it.
Depression Support
A depressed individual's behavior is governed by pessimistic beliefs. Sleep, appetite and concentration are disturbed. Some develop symptoms such as headaches, back pain, irritable bowel syndrome, chronic fatigue, anxiety, shortness of breath, etc.
The causes of depression can be varied. From the loss of a loved one to not being able to cope with work pressures. Profound trauma in early childhood physical or sexual abuse, a bitter divorce, the death of a parent, or other deeply disturbing experiences could set the emotional stage for depression later on in life. However, very often the brain's chemistry of a depressed individual slips for no apparent reason. Just as people who are never exposed to smoke could get lung cancer, people who have lived happy, well-loved lives could also become depressed.
The most common misconception about depression and chronic illness is that it's normal to become depressed when faced with a chronic illness. It is normal, yes, but only during the initial "Adjustment period" which should not last for more than a few months. Beyond that, persistent depression ought to be treated as a separate illness altogether.
Depression makes pain hurt more. It causes fatigue and lethargy that could exacerbate the loss of energy of many chronic conditions. And depression aggravates social disruption because it tends to make people withdraw into social isolation.
As every individual is unique, so is his or her desire to live life to its fullest. We look around for support, for care and concern. Depression is remarkably common. In fact, depression is often called "The common cold of mental health problems". At least one person in six has a serious, or "Major", depressive episode at some point in his life.
Another reason why depression is often overlooked is that an enormous number of other symptoms could mask it. You may have to live with your chronic illness. But you don't have to live with depression. Depression is treatable. One frequent benefit of getting your depression treated is that, once your mood has brightened, your chronic illness often becomes easier to endure and manage.
Best 3 Memory Health Supplements to Support Brain – Smart Pill Guide
Are you living a life of stress?
Are you on the other side of forty?
Are you over weight?
Well, it is time to think, and think seriously…

Did you know for instance, that 25% of India's population is at a risk of developing diabetes in the next decade?

Did you know that in the past two decades more people from the economic middle class have been diagnosed as sufferers than ever before ? Diabetes has ceased to be a disease of rich alone, it is now a lifestyle disease and how you lead your life hereafter may determine your odds against this disease…

It can be really scary finding out that you have diabetes. But don't hit the panic button just yet! Of course, diabetes is a disease that's not to be taken lightly. But people with diabetes can live long, healthy, happy lives. You can too, by taking good care of yourself.

Diabetes means too much glucose in the blood. Glucose is the sugar that your body's cells use as fuel. When glucose builds up in the blood instead of going into cells, it can cause two problems: one, your cells may be starved for energy & two, high glucose levels may harm your eyes, kidneys, nerves, or heart in the long run.
Understand diabetes and take control
Diabetes Education and Prevention is the World Diabetes Day theme for the period 2009-2013. The campaign calls on all those responsible for diabetes care to understand diabetes and take control. For people with diabetes, this is a message about empowerment through education. For governments, it is a call to implement effective strategies and policies for the prevention and management of diabetes to safeguard the health of their citizens with and at risk of diabetes. For healthcare professionals, it is a call to improve knowledge so that evidence-based recommendations are put into practice. For the general public, it is a call to understand the serious impact of diabetes and know, where possible, how to avoid or delay diabetes and its complications. The key messages of the campaign are:
Know the diabetes risks and know the warning signs
Know how to respond to diabetes and who to turn to
Know how to manage diabetes and take control
Source:
www.worlddiabetesday.org
The problems of people with disability are varied. Then, there is also basic ignorance and apathy which they have to consciously deal with.

It is to bring such individuals together and provide them with a common platform to share their grievances that the Disability Support Group has been started. We would like your feedback and suggestions at: This email address is being protected from spambots. You need JavaScript enabled to view it.

For both family members and a person with disability, life can be very tough especially when coping with everyday realities. The disability support group seeks to provide a common platform to persons with disability a forum wherein they can meet, share their grievances and provide each other with moral support.
A long drawn disease or disorder affects not only the patient, but also his immediate family. For the patient who realizes that his survival depends upon everyday routine and precautions, life is doubly tough. For his close kin, it is the sorrow of seeing a loved one suffer so much or coping with the pain of losing a loved one.
Life for a patient with a kidney problem is anything but ordinary. Apart from the many restrictions the patient must endure, fear is also a constant companion. In cases where a transplant is recommended, the risks, fears and bureaucratic tangles increase. For the government requires that a person needing a kidney transplant can only get a donor kidney from immediate blood relatives. This not only compounds the problem of obtaining donors, it also sets up a tangled web of middlemen and unchecked organ trafficking – A system which stands to make dollops of rupees! Which is why a support group system becomes necessary. Most doctors will only provide information and routine treatment. Especially in our country, a holistic approach to medicine is sorely lacking in big hospitals. The constraints of time also tend to put constraints on the empathy a doctor or specialist can provide.
If you wished to undergo a kidney transplant, wouldn't you wish you knew somebody who underwent a similar operation? Meet someone who could give you a second opinion, perhaps even first hand information on the ordeal, also know about how to cut through the red tape with your sanity intact? Speak to family members who have coped with their trauma? Sometimes there are things a doctor doesn't feel fit or necessary to tell you. Sometimes, you stumble upon information very late. It is essential therefore, that a support group be formed wherein members can exchange information and experiences to help promote confidence and awareness.
aarogya.com invites you to become a member of the kidney transplant support group. Essentially become a part of the community which is instrumental in helping others cope with the problem and even provide moral support to the entire family.
Pregnancy support group
Okay, so the whole world does it. But when you are pregnant, it is most certainly a new, different experience for you. And it should be given the fact that you are creating a whole new life. It is the most exciting experiences of life, but what makes this more enjoyable is to know what to expect from your pregnancy…
But most often pregnant women do not have a reliable source of information, of bonding, of sharing, except from the kind they get from their families.It is only natural to feel concerned about the welfare of your baby and yourself and it in times like these. To help pregnant women not just cope with this wonderful time but also enjoy, Niloufer Ebrahim a trained pregnancy counselor and Dr. Jyothi Unni a obstetrician and gynecologist conduct an ante–natal education and awareness program.
Positively pregnant
Positively Pregnant consists of eight workshops that imparts vital information related to childbirth, baby care, breast feeding, self–care, pre and post–natal exercises, post natal care and new parenthood all of which are only supplementary to the services provided by your gynecologist.
Says Dr Unni, "If a mother is prepared for her baby in every way, this in turn helps her interact better with her doctors all thorough the nine months and during childbirth too". Ebrahim feels that "By creating an awareness that goes beyond general knowledge of pregnancy, babies get the best possible start in life. This is because such babies have a better chance at being breast fed, at having relaxed mothers which immensely helps their own well being". Positively pregnant also provides a support group as mothers to be in various stages of pregnancy share their experiences, clarify misconceptions and practice exercises, relaxation and breathing techniques for labor and delivery together.
Positively Pregnant has its workshops conducted at Jehangir Hospital and Medical Centre. If you are pregnant and have some related question, Ebrahim will be only to happy to answer it. Write to her at
This email address is being protected from spambots. You need JavaScript enabled to view it.
. Or call +91 20 26050550 and speak with Bhaktawar at Jehangir Hospital and Medical Centre.
Concept
The word obesity brings to mind the picture of a person like an inflated balloon. The person is traumatized by sneers and jeers many a time. The person feels the need to be treated with respect rather than being treated as an object of amusement. The right to be treated like a normal person, to be on the Lighter Side of Life.
Register now:
This email address is being protected from spambots. You need JavaScript enabled to view it.
Welcome to the lighter side of life
Schizophrenia is a major
mental illness
as well as a major health problem worldwide, afflicting approximately 1–2 per cent of every nation's population, and requiring immediate and definite medical attention.
It may be defined as a
functional psychoses
characterized by disturbances in thinking and profound disorganization of behavior. While describing a psychoses, most lay people would probably use the word "Mad" or "Insane", for this is the way the bizarre behavior of a psychotic would be perceived.
For both the patient and the family, this is a very painful illness. For the family it is the pain of seeing a loved one slowly loose touch with reality. Therefore, it becomes necessary to provide a platform for such people family and patients, to come together and voice their grievances, meet others with similar problems and derive the much needed moral support. Here are three support group systems wherein a person can get the requisite information and services needed to cope with schizophrenia.
Shweta Association
Shweta Association is a
Vitiligo Support Group
. Considering a person with Vitiligo and his/her emotional, psychological, social and day–to–day needs, 'Shweta' takes holistic approach to solve all the problems. It provides a common platform for such people to unite them, discuss their problems, to exchange views, to learn scientific facts about the disorder and above all to improve the self image of the person.
Shweta Association works to achieve the aims stated above. A lot of people such as social workers, skin specialists (dermatologists), psychiatrists, pathologists, ophthalmologists, genetic counselors, beauticians etc. are actively involved with "Shweta". People suffering from this problem should come forward and join us. We hereby appeal to all the people who want to work for this cause to come forward and help us.
Shweta Association also runs the Marriage Bureau for people with Vitiligo.
What is Vitiligo?
Vitiligo
or Leucoderma is not a disease per se. It is an auto–immune disorder. Melanocycles or cells producing melanin pigment sometimes gradually decrease in number leading to white patches on the skin. This de–pigmentation of the skin does not affect other organs of the body. Cosmetic disfigurements and fear of hereditary transmission has attached an undue social stigma to this disorder.
Vitiligo is found all over the world and is seen in about 1% to 3% of the population. In approximately 15 to 20% people it can be transmitted to future generations. In 80% of the people it is secondary to some sort of allergy, trauma, etc. Vitiligo is not a contagious disease and it does not affect physical and mental capability of a person in any manner. Many people having Vitiligo have gained prominence in various walks of life.
Diseases like Diabetes, High blood pressure, Cardiac disorders, Cancer etc. are hereditary, cause disability to certain extent and involve many vital organs in the body. But there is no social stigma attached to these. Social stigma attached to diseases like Leprosy, Tuberculosis, etc. has been eradicated to a great extent, as a result of social awareness campaigns, health education programs, and effective treatment. Our aim is to remove the social stigma attached to Vitiligo, by creating awareness among people.
Shweta Association is a charitable trust registered under the State of Maharashtra, India, bearing Registration Number MAHARASHTRA/1144/2001/PUNE
.
Contact us:
Registered Office:
C/o. Dr.Maya Tulpule MS, DA
Sahawas Hospital,
26, Sahawas Society, Karve Nagar,
Pune 411052.
Maharashtra / India.
Ph. 9520- 25458760, 25440530.
Email:
This email address is being protected from spambots. You need JavaScript enabled to view it.
,
This email address is being protected from spambots. You need JavaScript enabled to view it.
Website:
http://www.myshweta.org/
Common Symptoms
A
Cold
is a viral infection that affects the upper airway including the nose, pharynx, throat and lung airways.
Introduction to Colds
The common cold is the most common reason that people miss work or school. There are at least 200 different viruses that cause colds. These are not the same viruses that cause the flu. Colds are very contagious. They are airborne and transmitted when one coughs, sneezes and then touches an object after they have sneezed on their hand or blown their nose. Anyone can get a cold. Children tend to get more colds than adults do. The reason adults get fewer colds is that they have become immune to particular viruses that cause the cold.
Causes & Risks of Cold
Causes of Cold
Colds are caused by rhinoviruses. Since it is spread by the respiratory route the risk is highest in crowded places and in places when there is prolonged contact, as in play groups or day care centers.
Risks of Cold
Colds are highly contagious. Someone with a cold can easily pass it onto others. The cold virus is spread via air particles that are expelled when coughing or sneezing. It is also spread when someone with a cold rubs their eyes or nose and then touches another object before washing their hands and someone else comes in contact with such objects later, such as a phone or door knob.
Signs and Symptoms of Cold
Clinical Features of Cold
Running nose.
Stuffy nose.
Cough.
Congestion.

Sore throat.
Muscle aches.
Fever.
Headache.
Prevention of Cold
There are many preventive measures that can help prevent one from catching a cold. There is some evidence that Vitamin C may help prevent colds. To reduce the spread of colds, a person with cold should cover his or her mouth when sneezing or coughing, wash his or her hands frequently and avoid touching the eyes, nose, and mouth. Other people should avoid close contact with a person who has a cold and anything they have touched, and wash their hands frequently.
Constipation
is hard, dry stools accompanied by difficulty in passing them. Constipation can occur on its own or as a symptom of another disease. Usually, it is harmless but can indicate an underlying disorder.
Constipation is defined as having a bowel movement fewer than three times per week. With constipation stools are usually hard, dry, small in size, and difficult to eliminate. Some people who are constipated find it painful to have a bowel movement and often experience straining, bloating, and the sensation of a full bowel.
Some people think they are constipated if they do not have a bowel movement every day. However, normal stool elimination may be three times a day or three times a week, depending on the person.
Constipation is a symptom, not a disease. Almost everyone experiences constipation at some point in their life, and a poor diet typically is the cause. Most constipation is temporary and not serious. Understanding its causes, prevention, and treatment will help most people find relief.
Causes & Risks of Constipation
Causes of Constipation
Inadequate fluid intake renders the stools hard.
Insufficient fiber in the diet. Fiber adds bulk, holds water and creates easily passed, soft feces.
Hypothyroidism (insufficient secretion by the thyroid gland).
Hypercalcemia (excess calcium in the body).
Irritable bowel syndrome.
Back pain.
Risk Factors for Constipation
Use of certain drugs, including: belladonna, calcium–channel blockers, beta–adrenergic blockers, tricyclic anti–depressants, narcotics, atropine, iron, antacids.
Sedentary lifestyle.
Poor diet.
Stress.
Illness requiring complete bed rest.
Symptoms of Constipation
Hard feces.
Infrequent bowel movements.
Straining during bowel movements.
Pain or bleeding with bowel movements (i.e., at the time of passing stools).
Sensation of continuing fullness after a bowel movement.
Abdominal bloating.
Prevention of Constipation
Eat a well–balanced, high fiber diet.
Exercise regularly.
Drink at least eight glasses of water a day.
Cough
is an involuntary reflex. It is not an illness, but rather a protective reflex. The reflex occurs when the membranous lining of the respiratory tract secrete excessive mucous which protects the airway from infections. This mucous collects and traps all the foreign particles which enter the airway. Coughing helps us get rid our throats of this mucous. This enables us to keep our airways open and also prevent further infections like pneumonia which can occur.
Types of Cough
Cough can be classified on the basis of the duration for which they last and also the content of the sputum they produce.
Duration of Cough
A cough can come and go quickly or it can last for several days if you have a cold, or it can be persistent and chronic, as in the case of chronic bronchitis.
Sputum production
Based on this, there are two types, the
dry cough
or the cough where the sputum lining the respiratory passage comes out and the
wet cough.
Coughing being mostly involuntary can also be voluntary. In addition, some people cough more often than others because individuals vary in the amount of irritation they can tolerate.
Symptoms of Cough
The main symptom is involuntary
coughing
. It could be accompanied by other symptoms like fever, difficulty in swallowing, throat ache, pain in the ribs etc. More important than the cough itself, are aspects of it that provide clues to its causes:
Frequency and duration of the cough.
Type of material being coughed up (mucus or phlegm, blood).
Colour of the sputum (white, clear, green, yellow, pink, blood–specked).
Consistency of the material coughed up (thick, thin, frothy).
Presence or absence of accompanying pain.
Diarrhea is essentially an infection of the gastrointestinal tract wherein the number of stools increase due to gastric irritation causing dehydration and malnutrition. It is caused by germs present in feces and spreads due to poor hygiene. Usually, it lasts only a day or two and isn't serious.

Diarrhea is loose, watery stools. A person with diarrhea typically passes stool more than three times a day. People with diarrhea may pass more than a quart of stool a day. Acute diarrhea is a common problem that usually lasts 1 or 2 days and goes away on its own without special treatment. Prolonged diarrhea persisting for more than 2 days may be a sign of a more serious problem and poses the risk of dehydration. Chronic diarrhea may be a feature of a chronic disease.

Diarrhea can cause dehydration, which means the body lacks enough fluid to function properly. Dehydration is particularly dangerous in children and older people, and it must be treated promptly to avoid serious health problems. See Dehydration.

People of all ages can get diarrhea and the average adult has a bout of acute diarrhea about four times a year. In the United States, each child will have had seven to 15 episodes of diarrhea by age 5.
Fever could be defined as the regulation and control of body temperature. It is the body's natural reaction to external infection. The absence of it could well be a pointer to some serious illness. The human body has an extremely narrow range of temperature regulation. It is absolutely essential for the proper functioning of the enzymes. Despite variations in temperature around the body, it maintains the delicate balance. It is usually accompanied by sweating and chills.

Heat is generally produced by the action of the thyroid hormones, and muscles play an important role in it. The constant body temperature is, however, maintained by nervous regulation at the hypothalamus.

Normal Range
In healthy individuals, the body temperature is somewhere between 36.5°c and 37.5°c. It increases marginally during the day. The lowest temperature is between 2:00 a.m. and 4:00 a.m.

The term "fever" is used when the body temperature increases above 37°c. Shivering, chills and vasoconstriction in the skin are seen. The body temperature is increased by decreasing the loss of heat. At the same time, the production of heat in the organism increases. Muscle tone increases and spasms may occur.

Fever could be the outcome of a number of stimuli such as bacteria and their endotoxins, viruses, yeasts, spirochetes, protozoa, immune reactions, several hormones, and even some medications.
A
Headache
is a common affliction that affects the head and can have many different causes.
Causes of headaches commonly fall into four categories: Vascular (conditions affecting the blood vessels), tension, inflammatory and those associated with abnormalities of the cranial nerves (the nerves supplying the face, head and neck). There are no nerve endings in the brain itself.
Therefore, a headache is a painful sensation in the muscles, the skin or in some organ around the head or around the brain. The pain can be confined to a small area or cover the entire head. Some headaches are preceded by auras (sensations that things are not quite right). These auras can be visual, associated with smell, or auditory (sounds). Most headaches are benign, that is, they are self–limiting and not likely to be serious. However, some headaches are not, and they require extensive evaluation.
Causes & Risks of Headache
What are the causes and risks of headaches?
Many things cause headaches.
Vascular headaches
are of the migraine type and can be either classic or common. Vascular headaches include cluster headaches (Severe, one–sided headaches that occur in groups) and headaches associated with hangovers or exposure to toxins and other drugs.
Tension headaches
are caused by stress, conversion reactions (Psychological problem causing symptoms that resemble an actual physical condition) or arthritis, abnormalities in the neck, muscles or bones.
Inflammatory headaches
are caused by lesions such as tumors, meningitis (Infection or inflammation of tissue covering the brain and spinal cord), bleeding within the head, auto–immune diseases (Diseases in which the body produces chemicals that attack itself), or arteritis (Inflammation of the wall of an artery). Cranial neuralgias (Severe pains in or about the face or scalp) are caused by trigeminal (Nerve sensing feelings in the face, cheek and jaw) or glossopharyngeal (Nerve controlling the throat and vocal cords) nerve abnormalities. Most people have experienced some type of headache in their lives.
Symptoms of Headache
What are the signs and symptoms of a headache?
Pain in the head.
Visual difficulties.
Nausea and vomiting.
Hearing changes.

Irritability.
Confusion.
Malaise or general feeling of discomfort.
Any abrupt overstretching or pull that is brought to bear on any muscle without its prior warming up is known as a Sprain or Strain. It is usually felt in one's lower back where the muscles are large and get pulled often. These muscles could become sore when they get tense and cramped resulting in spasms. Very often, sprains cause an injury to the ligaments that surround a joint. The ligaments hold the joint in position, but may be stretched or torn. Sprains most often occur in the ankle, knee, finger, wrist, shoulder or spine.

Typical Pain and Findings
Low back pain from a sprain or muscle strain is in a broad area of the back and you could feel it on either side, often accompanied with painful muscular spasms. The pain is usually aggravated by any kind of activities and bed rest becomes an absolute necessity for a short period of time – say about one to three days.

The pain normally lasts up to 10 days and doesn't involve either leg. You are unlikely to feel any weakness in your legs. Your movements are likely to be restricted by pain though. You'd be "Bent over" and unable to maintain a normal posture. Any activity would become impossible, including sitting, standing, walking or driving.


Records of published articles in the newspapers helps common people about precautions to be taken while seeking the services from health professionals and also helps health professionals to rectify the negligence.
read more…