Times Of India
04 July 2011
By, Umesh Isalkar
Pune, India
Waiting Till Full-Blown Infection Sets In Leads To Certain Death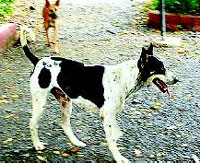 Packs of stray and often snarling dogs that roam the city have caused the deaths of at least 27 people due to rabies every year since 2007.
Many people ignore dog bites and hence seek medical help only when full infection sets in. Experts stress the need for health educational programmes for the medical community and in the public about the dangers of inadequately managed dog bites.
The importance of proper wound care and post-exposure vaccination must be reinforced to prevent total rabies infection, they said.
"On June 27, a domestic help in a Koregaon Park housing society, succumbed to rabies infection. The woman was bitten by a stray dog two months ago in April. Had she taken correct treatment soon after the dog bite, she would have been saved," PMC's assistant medical officer of health Dilip Jagtap said.
The woman had not taken the recommended treatment (vaccination) usually given as a precautionary measure when a person is bitten by a stray dog. She developed clear symptoms of rabies like hydrophobia (fear of water) and fear of air when she sought treatment a few days ago, but she died soon after. "The mortality is 100 % once a person develops full-blown rabies infection, hence precaution is necessary," Jagtap said.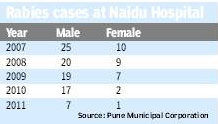 Not all rabies cases are from the city, Jagtap said. "People come from adjoining areas to Naidu Hospital for rabies treatment. These are included as city cases and hence, so many rabies cases are seen every year. In reality, the city's share in rabies cases is minuscule," Jagtap said.
The period from the time of infection to the onset of symptoms is the rabies incubation period. It may vary from a few days to several years, but is typically between one and three months. During this time, the rabies virus multiplies within the body.
If the bite is not on the face, it takes usually two to six months for a person to develop the symptoms. In the domestic help's case, the bite was around the knee area, hence it took two months for the virus to travel to the woman's brain causing inflammation (encephalitis), PMC medical superintendent D V Barathe said.
The early symptoms are fever, headache, general tiredness and pain at the site of the bite. As the disease progresses, neurological symptoms such as insomnia, anxiety, confusion, hypersalivation, difficulty in swallowing and hydrophobia set in. Ignorance does much damage and patients from the fringes downplay the severe consequences of a stray dog's bite. Youngsters also ignore dog bites and hide it from parents. Some start treatment soon after the bite, but do not complete the full five-course vaccine. "A single injection costs Rs 300 and the full course costs Rs 1,500. This course is given free at PMC-run hospitals. But it is costly in private hospitals and hence most people abandon it midway," a medical officer at Naidu Hospital said.
It takes seven days to develop the required immunity after the vaccine is injected. Another anti-rabies serum or immunoglobulins should be given
within 72 hours of the bite. This serum, available at medical stores, gives protection to the person for the first seven days. It is free in civic hospitals.
"The health department of the Pune Municipal Corporation catches 25 stray dogs per day and hands over 20 to 22 dogs to the Naidu Hospital's dog pound for sterilisation. The PMC kills only those dogs that are rabid as per the norms of the animal welfare board. It is supervised by a veterinary doctor," said Dilip Jagtap, assistant medical officer of health, PMC. "We not only sterilise dogs but also give them the anti-rabies vaccine," Jagtap said.
Activists say that the anti-rabies injection should be given to dogs annually to prevent it from getting rabid, but the civic body does it once in a while.
"One cannot identify whether a stray dog on the streets is rabid or not. A stray dog, after sterilisation, can still be rabid unless the anti-rabies injection is given annually,"
What you should know
Dog bites should be taken seriously especially when it is a stray dog or an unvaccinated dog
Wash the wound with soap and water as soon as possible
Victims of bites by suspected rabid dogs should report immediately to the nearest health facility
It is absolutely necessary to follow up the wound, cleansing it and vaccination within a few hours after contact with a suspect rabid animal
Most human deaths occur in the absence of post-exposure prophylaxis
Rabies is almost always fatal once the clinical symptoms appear
Dog bites should also be reported to the nearest veterinary office. This is necessary for monitoring the dog.
Diagnosis
In most cases, human rabies is diagnosed primarily on the basis of clinical symptoms and signs, and a corroborative history of or evidence of an animal bite, death of an animal, and incomplete or no vaccination following exposure.
The facility for laboratory diagnosis and confirmation of rabies, be it in humans or in animals, is available only in a few institutions in India. Dogs are the main cause of rabies in India. Other animals, such as monkeys, jackals, horses, cattle and rodents, seem to bite incidentally on provocation.