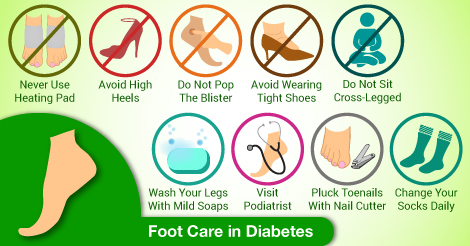 Injury caused to a diabetic patient takes considerable amount of time to get healed. Therefore, proper foot care becomes very important as any injury to foot can lead to complication like osteomyelitis (infection of bone) and even foot amputation. Here are few easy tips for foot care in diabetes.
Wash your legs routinely with mild soaps and apply moisturizer to avoid dryness related injuries.
Take good care of your toenails and pluck them routinely with a proper nail cutter. Avoid cutting the cuticle and the nails curved inside. It is better to visit a podiatrist for help.
Examine your foot daily and check out for any cuts, bruises, and scratches. Look out for any area which is more red and warm as compared to other.
Do not pop the blister or sore caused due to new pair of shoes. Instead apply a bandage and opt for another pair of shoes.
Avoid walking or exercising if any sore or injury is present.
Before bathing, check the temperature of water with your hand or elbow instead of foot. High temperature can burn your foot and can lead to infection.
Select proper footwear like hard sole slipper or shoes. Avoid high heels and pointed toes. Check for any possible foreign object inside the shoes before wearing them.
Avoid wearing new shoes for more than an hour at a time.
Avoid wearing tight shoes.
Change your socks daily and always opt for natural fiber socks.
Patient with neuropathy who have reduced sense must make sure that their shoes is at least half inch longer than their longest toe.
Never use a heating pad on feet.
Do not sit cross-legged as it can reduce blood flow to the feet.