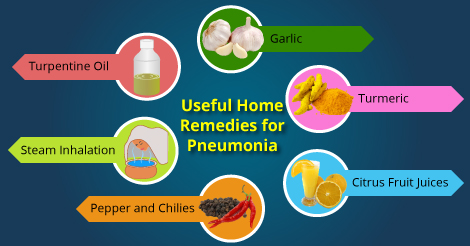 Pneumonia is an infectious disease and therefore it is highly recommended for the patient to consult a physician and start antibiotic therapy. However, the home remedies can be helpful in relieving the symptoms of pneumonia. Pneumonia is an infectious disease of respiratory system and thus its main symptoms are cough, fever, chills, and breathing problems. Here are few home remedies which can ease these symptoms and thus help to improve life quality.
Garlic: Garlic is a very well-known remedy. Eating crushed garlic or having 1-2 spoons of raw garlic juice helps in reducing body temperature, improves expectoration and thus clear phlegm, and provides anti-bacterial and anti-fungal action.
Turmeric: Having turmeric with honey or with warm milk improves expectoration. Turmeric also provides anti-inflammatory action and thus reduces chest pain and phlegm production. Pneumonia caused due to bacterial infection can be very well treated with turmeric intake due to its strong antiseptic properties.
Steam inhalation: Steam inhalation liquify the nasal and chest congestion and provides instant relief from breathing problem and rib cage pain.
Citrus fruit juices: Citrus fruits like orange, lemon, and others are abundant source of vitamin C. Intake of these juices and thus vitamin C boost the immunity and reduces inflammatory reactions like pain and congestion in the patient.
Pepper and chilies: Ayurveda recommends increased intake of foods having chilies in such conditions as it releases the mucus in airway and thus helps in removal of phlegm from it. Garlic chutney made with lot of chili powder can be given to the patient if he/she is not having complaint of acidity.
Turpentine oil: Massage of turpentine oil or any lotion containing on chest provides instant relief from pain due to coughing.