Times of India
12 November 2011
Kolkata India
Gayen Is The Oldest Patient To Have Been Operated Upon At National Medical College
Amir Uddin Gayen, of Shibnagar village in Canning's Taldih, walked into the OPD of Calcutta National Medical College and Hospital (CNMCH) on October 31 and underwent surgery two days later. Gayen is now recuperating and will be discharged within three to four days. Sounds like any ordinary case? Not so ordinary, say doctors who are amazed that the 124–year–old patient could endure the surgery.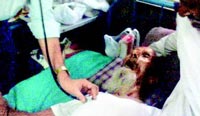 At his age, neither does Gayen need a hearing aid nor does he require support while walking. He does not wear glasses either. Father of five sons and two daughters, Gayen boasts of a strong network of 104 grand and great grandchildren. It has been 21 years since his wife Zeenat Bibi died. He lost his eldest daughter as well, few years ago.
"Prior to this, my father had never needed to visit a hospital. He, however, started complaining of pain in the lower abdomen a couple of years ago. But he simply refused to visit a doctor," said his son Zabbar Ali, a meat shop employee.
When the problem persisted, the family forcibly took him to the subdivisional hospital in Canning a few weeks ago. The doctor there advised him to undergo a surgery for hernia and referred Gayen to CNMCH.
"My father refused to undergo surgery. We literally fooled him by saying that we were taking him to Kolkata to consult a better doctor and not for surgery. Doctors here convinced him that he needed to be operated if he wanted to get rid of the pain," recounted Zabbar.
Doctors were also taken aback to see the old man walking inside the OPD unaided. They were equally amazed to find that his medical reports were normal. Gayen was put on the operating table last Wednesday and endured the one–and–a–halfhour surgery without much difficulty.
"We do conduct different kinds of surgery on patients in their 80s on a regular basis. This patient is the oldest patient we have operated upon. Hernia operation is a minor surgery. But there was a risk involved due to his advanced age. High quality anaesthesia, antibiotics and post operative care made us bold enough to take the risk," said Dr Debabrata Roy, professor of surgery. Doctors have flipped through medical records and, so far, the oldest patient to have been put on an operating table was a French woman who underwent a hip surgery at the age of 115 in 1989.
Gayen has been very active throughout his life. Five years back, he used to sell earthen pots in the local market before his family forced him to retire. He juggled many occupations which included raring of goats, tilling his three–bigha land and running a tea stall. A strict disciplinarian, the 124–year–old man takes two meals a day and endless cups of tea, his only addiction being bidi.
"There is a little pain in the abdomen. Otherwise, I am feeling fine," Gayen responded to Dr Jamehsed Molla's query.
Gayen misses home and his great grandchildren. He is recovering fast except for a chest congestion. Doctors hope to discharge him in another three to four days. But he needs to come for a one–time check up after 20 days post his discharge.
124 –year –old Amir Uddin Gayen at the National Medical College hospital