Times of India
09 November 2011
By Kounteya Sinha
A national health regulatory body is a must to rein in the greed of truant medical institutions, say public health experts
It's been over a month since Romina Nabil arrived in India from Karachi after selling off her ancestral property to pay for her liver transplant. Every day, she visited a multi–speciality hospital in Gurgaon where she was told to undergo fresh pathological tests.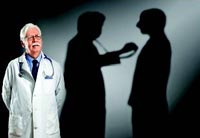 Having running out of money and patience, Romina even threatened to shift to a different hospital for the surgery. But found to her horror that the contract she signed with the hospital clearly stated she could not seek care anywhere else since the hospital in question had arranged for her visa. Almost a month and a half later, she finally got operated. A week after that when she was ready to be discharged, she was handed a bill of Rs 5 lakh even though she was told her package would not cross Rs 2 lakh. What's worse, she was handed an additional bill of Rs 1 lakh with the hospital calling it the "lifetime check–up fee".
Romina returned to Pakistan with a functional liver but neck–deep in debt. Undergoing the surgery was the easy part. Dealing with fake promises and heartless hospital staff was far worse.
Romina isn't a one–off example. Thousands of patients in India face the same harassment everyday. With no upper limit to medical costs and no honest word on what procedures a patient actually needs and what is being recommended purely for financial gain, India's health sector, specially privately run hospitals, are coming under serious scrutiny.
This has made the Planning Commission's all–powerful group on health suggest putting in place a patients' charter of rights including ethical standards. According to the panel, India immediately needs a new National Health Regulatory and Development Authority (NHRDA) that will monitor and enforce essential healthcare regulations to control entry, quality, quantity and price.
The recommendation is to set up the NHRDA which will be statutorily empowered to regulate and monitor/audit both the public and the private sectors and ensure enforcement and redressal.
The panel's latest report, exclusively available with TOI–Crest, says the NHRDA will be linked to the Ministry of Health and Family Welfare — independent, (similar to the office of Governor, RBI vis a vis the ministry of finance) and will have strong statutory powers to regulate the healthcare sector.
According to Dr K Srinath Reddy, who heads the panel and is president of the Public Health Foundation of India, this regulatory and development body will be responsible for overseeing and enforcing contracts for public and private providers, accreditation of all health providers, preparing and enforcing standards for facilities, staff, scope, access, quality and rationality of services and costs of care with clear norms for payment. The NHRDA will also ensure adherence to standard protocol for treatment with involvement of professional organisations, establish a system of regular audit of prescriptions and inpatient records and death audits.
Dr Reddy told TOI–Crest that the NHRDA will be supported at the state level by State Health Regulatory and Development Authorities (SHRDA). The entry of states into the Universal Health Care system will be predicated on their setting up SHRDAs with powers determined uniformly across all states. Dr Reddy says there will be Ombudsperson offices operating under the Authority at the state level which would be responsible for enforcing the patients' charter of rights including ethical standards.
The work of the Authority, including the Ombudsperson, will be backed up by Health System Evaluation Units. These units will be staffed by public health specialists and data management experts who will draw on external expertise as well as volunteers who can support the gathering of data and evidence.