Times of India
01 July 2011
Chennai, India
Was Denied MBBS Seat As Her Disability Did Not Satisfy Admission Rules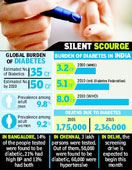 When Vanathi first saw her Class 12 score of 1139/ 1200 and a cut off of 190/200, she was overjoyed. With a score good enough for the merit list for MBBS course, she was confident that she would find a seat under the quota for the disabled. However, when the directorate of medical education (DME) put out the list of candidates under this category, she was shocked to find that her name figured nowhere. Upon inquiry she came to know that the DME accepts only students with lower limb physical disability for MBBS course. All her efforts in her studies could not help Vanathi, who has a disability in her left hand, therefore making her ineligible.
But Vanathi, whose
disability
includes only the absence of her palm and fingers on her left hand, was determined to pursue her childhood dream of becoming a doctor. So she filed a writ petition in the Madurai bench of the Madras high court, challenging the DME's rules which she said were unconstitutional. "Restricting the benefits of reservation under the Disabilities Act to a particular category of disabled persons is patently illegal,″she stated in her petition.
Criticising the DME's outright rejection of her application, Vanathi said, "Only if I am considered for admission I can prove through medical examination that I am capable of practising as a doctor. I can very well elicit signs during clinical examination and I have feeling and sensation of the hands which are important for a clinical diagnosis and treatment. Therefore my disability in upper limb cannot in anyway be a stumbling block for the effective discharge of any duty as a doctor."
Vanathi concluded by saying that even if she were to win the case, she would still lose her medical seat as the admission procedure would have finished by then. In response, the Madurai bench accepted her petition on Thursday and issued an interim order for the DME to reserve one seat until the case reaches its verdict and also ordered the DME to file a reply within two weeks.
Members of the DME selection committee are, however, firm about their decision. "The Medical Council of India (MCI) norms clearly state that only students with lower limb disability may be admitted into the course,″said a committee member who did not wish to be named. "These are also by orders of the Supreme Court, as doctors need both hands to examine patients and perform medical procedures. Even if the judgment is in her favour, we will file a counter and further appeals if required."
The issue has raised a debate in the medical community about the degree of disability of an MBBS applicant. "Her demand seems fair,″said Dr George Thomas, editor of Indian journal of Medical Ethics.
"The selection committee should have a relook at their rules. The girl may not be able to do surgery, but she can take up nonclinical subjects like pathology, biochemistry or anatomy.″Other streams like psychology, psychiatry may also seem like an option. But Dr Thara, a leading psychiatrist in the city, pointed out that to even specialise in psychiatry, one has to complete the MBBS course.
"Courses like anatomy and physiology which require use of both hands and dissection would be difficult for her,″she said. "But the DME certainly needs to examine her hands first to check the extent of disability before reaching a conclusion.″
Vanathi's disability includes only the absence of her palm and fingers on her left hand. But the DME accepts only students with lower limb physical disability for MBBS course. The issue has sparked a debate in the medical community