Times of India
10 November 2011
Every other adult in Karnataka is either a diabetic or hypertensive, a survey has revealed. Findings of the Screening India's Twin Epidemics announced on Tuesday pointed to a twin epidemic bomb ticking away in the state.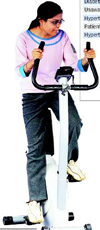 The study, conducted over two years, said that 49% of the 1,979 adults surveyed suffer from diabetes or hypertension or both. While 35% of them were diabetic, 32% had hypertension. About 17% of the adults were both diabetic and hypertensive. Consequently, 30% of the diabetic and hypertension patients were found to be suffering from kidney ailments.
Of the twin epidemics, the increasing incidence of Diabetes appears to have touched alarming levels. "We had thought that this rate of incidence (35%) of diabetes would happen only in 2020 (number of instances targeted in 2020). That it has happened almost a decade earlier is scary," said Dr Mohan Badgandi, Diabetes and endocrinology, head of the department, Manipal Hospital. Besides, 69% of those diagnosed with diabetes and under treatment for the same reported 'uncontrolled' sugar levels. "About 7.2% cases (101 individuals) of diabetes were fresh without any family history, while 14.4% were fresh cases with a family history," Dr Badgandi added.
But in about 7% of the newly diagnosed cases, the patients were unaware of their condition. "When the study was conducted, many patients did not even know that they had diabetes or hypertension. If these diseases are not treated in time, they can lead to fatal ailments of kidney and heart, which can burden not only the patient but also his family,'' said Dr Bhaswati Mukerjee, associate director, Medical Affairs Cardio–Metabolism, Sanofi India. "Earlier this disease was found mostly in patients in the age group of 40–60. Now, we have patients in the age group of 20–30 also suffering from Type2 diabetes. The average age of diabetics is 48.3 years," Dr Badgandi.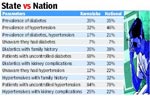 Doctors attribute increasing incidence of diabetes and hypertension to Indians' tendency to put on more fat on abdomen and waistline, leading to abdominal obesity.
The study, however, found that men and women are equally prone to diabetes: 47% in case of women and 53% in case of men. The overall figures for the prevalence of the twin epidemics in the state also conformed to national trends.
Not so sweet
India had 32 million diabetics in 2000. This number will increase to 80 million by 2030. The International Diabetes Federation has reported that 50.8 million diabetics in India in 2010 would rise to 87 million by 2030. Worldwide, there are more than 230 million diabetics and this number is expected to cross 350 million in the next 20 years.

AT A Glance
49% of people surveyed in Karnataka suffer from diabetes or hypertension or both
35% have only diabetes
32% are hypertensive
17% suffer from both
35% of diabetics and 27% of hypertensives had a positive family history
30% of diabetics suffer from kidney complications
69% (Two of every three) diabetics reported uncontrolled sugar levels
84% hypertension patients also had uncontrolled blood pressure
Sample size
The survey was conducted over two years in eight states. The sample size in Karnataka was 1,979: 938 women and 1,041 men Gender trend Diabetes is equally found among men and women (1:1). But the incidence of hypertension is more in men: 1:2 The link Hypertension trend is on the rise with increase in number of Type2 diabetes, because those who suffer from that are prone to suffer from hypertension in five years.
Check what you eat
Besides hereditary reasons, diabetes could be the consequence of food habits. Very high calorie and poor fibre food intake, lack of physical exercise and overeating can increase weight and obesity — the primary factors leading to diabetes and hypertension.
Number Shocker
38% of those suffering from diabetes in India had a family history
27% had normal weight (body mass index (BMI) < 23)
19% were overweight (BMI between 23 and 25)
54% were obese
26% had normal BMI
52.7%
obese (diabetes)
21.1%
were overweight
88.8 cm
was average waistline
66.6 kg
was average weight of people surveyed