Times of India
14 November 2011
Lucknow India
5% Of Total Patients At CSMMU's Diabetes Clinic Are In The Age Group Of 20–30 Years
Patients with type–2 diabetes in the agegroup of 20–30 years are quite common now.
"Sedentary lifestyle coupled with faulty eating habits and lack of physical activity in children is now showing results. I just saw that a 22–year–old youth was confirmed diabetic," said Dr Kausar Usman, faculty with Chhatrapati Shahuji Maharaj Medical University's medicine department.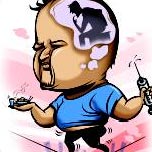 As per estimates gathered from the out patient department, about 5% of the diabetics belong to this type–2 category, while 10–15% enter the pre–diabetic stage and are most likely to develop diabetes in near future.
However, global trends show that about 25% diabetics are below 25 years, and most of the young diabetics suffer from type–1 diabetes.
The risk of disease in younger people is high considering presence of obesity in 7% of urban Indian children.
Experts say that two indicators show that one is at the risk of falling prey to diabetes. First: If fasting sugar level of an individual falls in the range of 110–126 units against the normal range of 80–110. Such patients are termed as borderline diabetic. Second: If the person's sugar level after meal is in the range of 140–200 units against the standard of less than 140, the person indicates an impaired glucose tolerance.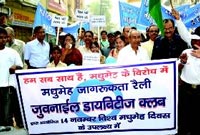 "One of the two conditions is enough to suggest that the patient is at the risk of developing diabetes, but the presence of both, which usually is the case, is surely alarming," said Dr Usman. He said that since diabetes is caused primarily due to genetic make–up or heredity, Indians are more vulnerable to it. The reason for this is our rich saturated fat–based diet, less of physical activity, jealous nature and more of mental stress.
Taking a note of the changing trend, the UP Diabetic Association has decided to initiate a study on prevalence of obesity in children and adolescents. The researchers would also see how many of these children are at risk of developing diabetic.
"Talking to one's family doctor and understanding more about diabetes is very important. Today, it is necessary to look at diabetes not only as an individual problem, but also as a problem that would affect the next generation, so that the disease can be prevented," said Dr AK Tewari, a city–based physician.
He informed that the incidence of diabetes is assuming epidemic proportions. As per the Indian Diabetes Foundation, there are over 300 million diabetics across the world.
Of the total, 50.8 million are Indians. With this, every fifth diabetic in the world is an Indian.
About World Diabetes Day (WDD) –2011
World Diabetes Day (WDD) is the primary global awareness campaign of the diabetes mellitus world and is held on November 14 of each year. It was introduced in 1991 by the International Diabetes Federation (IDF) and the World Health Organisation (WHO) in response to the alarming rise of diabetes around the world. WDD is a campaign that features a new theme chosen by the International Diabetes Federation (IDF) each year to address issues facing the global diabetes community. While the campaigns last the whole year, the day itself marks the birthday of Frederick Banting who, along with Charles Best, first conceived the idea which led to the discovery of insulin in 1922. Diabetes education and rrevention is the WDD theme for the period 2009–2013. The campaign slogan for 2011 is 'Let's act on diabetes. Now.'
PREVENTION
At present, type 1 diabetes cannot be prevented. Type 2 diabetes can be prevented in many cases
IDF recommends that all people at high risk of developing type 2 diabetes be identified through opportunistic screening and assessing risk factors such as age, waist circumference, family history, cardiovascular history and gestational history

Once identified, people at high risk of diabetes should have their plasma glucose levels measured by a health professional to detect Impaired Fasting Glucose or Impaired Glucose Tolerance, both of which indicate an increased risk of type 2 diabetes

There is substantial evidence that achieving a healthy body weight & moderate physical activity can help prevent the development of type 2 diabetes
12 warning signs
Frequent urination
Excessive thirst Increased hunger
Weight loss
T
iredness Lack of interest and concentration
Vomiting & stomach pain (often mistaken as the fl u)
A tingling sensation or numbness in the hands or feet
Blurred vision
Frequent infections
Slow–healing wounds
These can be mild or absent in people with type 2 diabetes
Risk factors
Obesity and overweight
Lack of exercise
Previously identifi ed glucose intolerance
Unhealthy diet
Increased age High blood pressure and high cholesterol
A family history of diabetes