Times of India
11 June 2011
By Umesh Isalkar
Pune, India
Push by Local Eye Banks Results in More Corneas for Transplant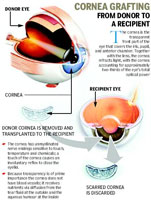 Eye donation after death is picking up in Pune district. Till March 2011, 818 people had donated their eyes and their corneas provided sight to 996 others. In the preceding year, there were 633 donors and before that, 533 people had donated their eyes.
Any increase in these numbers is encouraging as there is a huge gap between the number of people who need corneal transplants and the number of donors. "People should realise the importance of eye donation. After the death of an individual his eyes go waste as the individual is either burned or buried," said eye surgeon Aditya Kelkar of National Institute of Ophthalmology (NIO).
"The eye donation movement in Pune district is gaining momentum. We collected a total of 1,636 corneas in 2010-11. During 2009-10 and 2008-2009, we had collected 1,267 and 1,066 corneas respectively," Bhagwan Kakne, district ophthalmic surgeon and district programme manager of District Blindness Control Society (DBCS), told TOI on Friday.
The DBCS plays an important role in the ministry of health and family welfare's larger decentralised scheme called the National Programme for Control of Blindness (NPCB).
Among other things, it keeps a tab on recognised NGOs involved in blindness control activities including eye donations, and reports them to the state and the Union authorities by March end.
Kakne said more eye donations were happening because of increasing awareness and efforts by local eye banks involving H V Desai Hospital, Ruby Hall Clinic, National Institute of Ophthalmology (NIO), Jankalyan, and Venu Madhav eye bank at Deenanath Mangeshkar Hospital among others.
There are no fixed targets for eyeball (cornea) collection, but each eye bank should ideally collect at least 50 corneas annually, Kakne said.
Ashok Potdar, joint director, NPCB said, "Every month around 500-600 eyeballs are collected from 178 eye banks in the state. Of these, Mumbai takes the largest share, followed by Pune, Nagpur and Solapur."
However, Potdar added that the present level of eyeball collection in the state was inadequate, considering the Maharashtra's annual requirement of 10,000 eyeballs per year, for meeting the larger objective of blindness control under the NPCB.
The annual collection at the state level has crossed the 6,050 mark this year, but the deficit of 4,000 remains, he added.
Inhibition and traditional beliefs on eye donation are obstacles. "After a person's death, when the relatives are grieving, it is difficult to motivate and convince them to donate the eyes," he said.
As per statistics, one out of every 150 persons in India is affected by corneal blindness. Children and the poor are most affected. Of the 1 million deaths in the country last year, a mere 42,000 had opted for eye donations.
"The demand is about 3 lakh per annum. Almost one-fourth of the blind population is in India," said Madan Deshpande of H V Desai Eye Hospital.
Insight
Eyes can be donated only after death
Eyes must be removed within 4-6 hours after death
Eyes can be removed by a registered medical practitioner only
The eye bank team will visit the home or the hospital to remove the eyes nnn Eye removal does not delay the funeral since the procedure takes 20-30 minutes only
A small quantity of blood will be drawn to rule out communicable diseases
Eye retrieval does not cause disfigurement
The identities of both the donor and the recipient are kept confidential
Here's How
Close the eye lids of the deceased person lll Switch off the fan lll Raise the head of the deceased slightly by placing a pillow below lll Contact the nearest eye bank as quickly as possible
Give the correct address with specific landmarks and telephone number to enable the eye bank team locate the place easily lll If the death certificate from the physician is available, keep it ready
Eye donation can be done only with the written consent of the next of kin in the presence of two witnesses