Times of India
22 November 2011
By Sandeep Ashar
Mumbai India
Widespread Concern As Police Data Shows 528 Out Of 1,192 Deaths Last Year Were Due To Familial Problems
Worryingly, the primary cause for suicidal deaths in the city, according to the police, is "family problems", followed by mental illnesses.
The data was provided by the senior police superintendent of the crime branch's main computer cell in response to a Right to Information application filed by social activist Vihar Durve. In the plea, Durve sought an age-wise break-up of the suicides from 2001 to 2010 besides their causes.
The figures, Durve said, proved that high stress levels and difficult living conditions in the city are putting immense strain on its residents. He has now written to chief minister Prithviraj Chavan. "It is important for the civil society and state functionaries to find ways to check suicides," he said.
"It is the youth's incapability to handle the urban angst that forces them to take extreme steps," said sociologist Nandini Sardesai. "They are overwhelmed by their emotions. They do not want to see the options available."
According to the police data, "family problems" were behind 44% of the total suicides in 2010. Of the 1,192 such cases during the year, 528 were caused due to strains in the family. By contrast, the factor accounted for 15% suicides (185 out of 1,225) in 2001 and 30% (358 of 1,192) in 2005.
"Illness" was another major cause. The police cited it as the reason for 340 suicides (29%) in 2010. Of these, insanity or mental illness accounted for 132 cases and prolonged illnesses for 179. Illness caused 215 and 358 suicides in 2001 and 2005, respectively.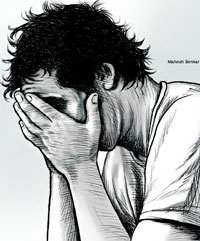 Apart from this, drug abuse led to 55 people taking their lives in 2010, while "love affairs" caused 47 such deaths. Suicidal deaths owing to bankruptcy or sudden change in economic status, meanwhile, rose from 16 in 2009 to 25 in 2010; the factor was behind 37 such deaths in 2005. Unemployment (49), dowry disputes (33), failure in examination (30), death of a dear person (23), professional and career problems (21), poverty (11) were some of the other major reasons for suicides in 2010.