Times of India
22 July 2011
By Umesh Isalkar
Pune, India
'Drug Inspectors Must Routinely Check Sales By Chemists'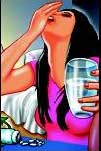 Rampant, across–thecounter sales of abortion pills in the city may soon stop. The Food and Drug Administration (FDA), in a circular to all assistant commissioners in Pune division, has directed the inclusion of the abortion pill or medical termination of pregnancy (MTP) pills in the drug inspector's routine inspection checklist.
The administration begun started conducting surprise raids and warned chemists to refrain from across–the–counter sale of these drugs that help induce termination of pregnancy up to seven weeks.
"Across–the–counter sale of abortion pills is a concern. We have directed all the assistant commissioners (drugs) in Pune division to include the MTP pills or abortion pills in the inspection checklist. Now, the drug inspectors will have to check the purchase and sale of these drugs during their routine inspection," Sanjay Patil, joint commissioner of FDA, Pune division told TOI on Thursday.
TOI in its July 18 report 'Misuse of 'A' pills rising' had highlighted how abortion pills are among the most abused medicaments in the city. The strict law which categorically maintains that the drug should be sold only when a prescription from a gynaecologist or a registered medical practitioner recognised by the MTP Act, 1971, is produced, is often discarded.
If these pills are not taken under proper medical supervision, it may lead to severe bleeding and can be life–threatening. Patil, who took cognisance of TOI's report, convened a meeting of all the nine assistant commissioners from Pune, Satara, Sangli, Kolhapur and Solapur under Pune division. "All the assistant commissioners were told to ensure that chemists in their areas do not indulge in across–thecounter sale of abortion pills," said Patil.
"Any chemist bending the rules will be served a show–cause notice and may have his licence suspended under Drug and Cosmetics Act, 1940," Patil said. The raids undertaken across the city to curb the misuse of the drugs began on Monday.
Ravi Joshi, assistant commissioner (drugs), FDA, said, "Some chemists sell these drugs across–the–counter. We nabbed some of them in the act and they will be served show–cause notices."
Abortion pills are not morning–after pills that are taken within 72 hours of unprotected intercourse so that conception does not occur. The MTP pills are to be taken when the pregnancy is proved and the person is not willing to carry on with it irrespective of the sex of the foetus. The morning–after pill is taken before missing the monthly period while the abortion pills are taken after missing it.
The pill shows 85 to 97% rate of success although the side–effects remain similar like abdominal pain and bleeding (attributed to the process of abortion), vomiting and nausea (on account of pregnancy) and in some cases, diarrhoea and fever. Apparently, the side effects vary from woman to woman.