Times of India
26 May 2011
By Malathy Iyer
Mumbai, India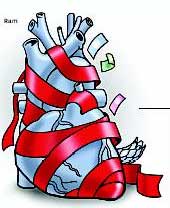 A complication has developed in the city's cardiac care set–up. Many hospitals are facing a sudden crunch in the availability of medicated stents, which are considered medical wonders and a painless way to treat heart blockages.
This follows the Food and Drug Administration's (FDA) sudden decision to adhere to the rule book, which says that medicated stents are drugs that cannot be stocked without a purchase bill or special licence. The FDA has surveyed various hospitals since last Friday and found that each kept stocks of various stents made by different manufacturers without paperwork or payment. Money was exchanged only when a stent was actually used in a patient.
Stent manufacturers and stockists have since removed their consignments from many hospitals, especially the smaller centres, leading to a queasy question: what will hospitals do for heart attack patients who turn up in the dead of night? "During the day, we can get company officials to deliver stents of any diameter or length, but this won't be possible at night," said cardiologist Dr Prince Surana, who has purchased some stents for his Surana Hospital in Chembur.
"Patients will have to choose from this limited stock and may not always get the best choice in terms of cost and medication," he added. 'Patients may have to pay 30% more for stents' Mumbai: Stents are tiny medical devices that are pushed up to the patient's blocked artery. Some stents contain a medication that helps keep the recently unclogged artery open. These stents are expensive at Rs 80,000–plus and have a short shelf life of six months to a year.
A stockist said there could be a 30% increase in the price of each stent if hospitals first bought one and then sold it to patients. "We are talking about hospitals stocking up to Rs 2 to 3crore worth of medical drugs. If they invest in buying so much, they are sure to add their stocking cost," he added.
The complication began with FDA's check on Asian Heart Institute in Bandra–Kurla Complex. "During our routine check in Asian Heart Institute, our inspectors found no paperwork for the numerous stents stored in the hospital. We were told the stents were there on a consignment basis, with money transactions being done only after a patient paid for it," said an FDA source, adding that many stents were seized for lack of records.
Dr Ramakant Panda of Asian Heart Institute clarified that keeping free consignments of stents has been a standard practice across the country. "We need different sizes of stents and types of stents. We cannot purchase all of them. Moreover, we pay taxes on each stent," he said, adding that other hospitals too had been raided in a similar manner. FDA sources claimed that many hospitals, such as Hinduja, Lilavati and Kokilaben Ambani, were also checked.
FDA joint commissioner (vigilance) Dilip Shrirao said cardiac drug–eluting stents have been classified as drugs. "To keep them with you, you need a purchase bill or licence. If a hospital has not kept a record of purchase, then it is not right,'' Shrirao said. He said the FDA only wanted to underline the need for proper paperwork. "Many stents of Asian Heart Institute that were seized were released as and when the hospital authorities produced invoices."
Doctors are not happy. Said a cardiologist attached to a south Mumbai hospital, "The consignment way of stocking stents is used across Asia, while hospitals in the US and Europe buy stents. India has been using the consignment method for a decade now, why the change?" Another cardiologist added that the state FDA cannot use one rule while the rest of country uses another.
A stockist, who has withdrawn his stocks from various hospitals, said he received a call from a north Mumbai hospital stating that he was welcome to keep his stock of stents but they would not take responsibility for it. "What if stents gets lost? How can I compensate for my loss?" he asked.
Panda said there was a need to find a solution to the situation soon. "The government gets its taxes on every sale. Hospitals aren't financially affected, except for the extra headache of paperwork. It is the patients whose choices in stents are limited," he said.
An official for a medical stent manufacturer said hospitals managed to get concessions on stents because they are bulk users. "If they have to buy stents, then you can expect them to sell them at MRP or add a hefty stocking charge," he said.
Medical Check
ANGIOPLASTY
| Coronary angioplasty is a procedure used to open blocked or clogged arteries of the heart. An angioplasty involves temporarily inserting and blowing up a tiny balloon where your artery is clogged to help widen the artery
STENTS
| Cardiologists need, at times, to place a wire mesh tube ' like a scaffolding used during construction of buildings'called a stent to keep the artery from narrowing again. Some stents are coated with medication to help keep arteries open (drug–eluting stents), while others are not (baremetal stents)
TYPES
| Drug–eluting stents made their appearance in India about a decade back. They are expensive at over Rs 80,000 each. Stents are differentiated on three counts ' their diameter, length and drug they are carrying. Patients may need a combination of stents depending on the nature of their heart disease
THE RULE
| Little over five years back, India classified drugeluting stents as medicines. This meant that instead of being medical devices, these stents would have to be purchased, stored and administered to patients as drugs.
MUMBAI ANGLE
| The FDA is going by the rule and saying that hospitals should show a purchase bill or licence if they have drug–eluting stents on their premises. Drugs have to be purchased and not kept as consginments. However, the practice in Indian hospitals has been to keep free consignments of such stents; payment for each stent is made to the company only after it's used