Mumbaimirror.com
22 July 2011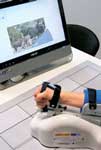 Spanish scientists have created a robotic machine that integrates with a gaming system to rehabilitate people suffering from neuromuscular disability while making therapy fun
Fifteen million people throughout the world suffer from a stroke every year and 5 million are left with chronic disabilities. Researchers have designed a robotic gaming system for treating neuromuscular disability amongst these patients.
The patient will be able to enhance his or her arm mobility by means of a portable robotic device and a software platform with videogames for tele–rehabilitation, so that the doctor can carry out the online monitoring of these exercises through the quantitative results obtained from the games.
The ArmAssist project is currently testing in a hospital, to find out the degree of satisfaction of patients who have suffered a brain stroke.
The project was initiated by FIK, a business initiative focused on research into the field of ageing and disability.
The device and videogames
ArmAssist consists of a mobile–based device that is connected to the user through a hand brace that records and measures the movements of the shoulder and the elbow.
This mobile base is connected to a standard computer that links the movements carried out by the arm to comply with the demands of the videogames developed for the rehabilitation of the upper limbs.
The exercises proposed for favouring the rehabilitation of the patient are of two kinds: evaluation and training.
The evaluation ones are short and which should be undertaken every day at the beginning and the end of the training session.
These videogames train independently the range of motion, force, distance and of precision, so that the therapist can evaluate the progress of the patient.
For their part, the training games last longer. The objective is precisely to motivate the patient, training the arm over a longer period.
These games also integrate a cognitive component in order to train also this aspect.
Amongst these videogames, there are puzzles, memory games and card solitaire games.
Remote therapists
Using tele–rehabilitation software that this assistive arm includes, a link is also developed between the patient and the therapist, which enables training him or her in their homes, and more independently.
While the doctor can ensure the patient is doing the exercises correctly by using the computer programme with an Internet connection.