Time of India
01 July 2011
By,Pratibha Masand
BMC Red Alert: Water-Borne Diseases Such As Viral Gastroenteritis And Jaundice Take Over From Malaria This Year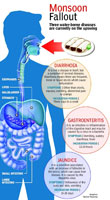 Last year, the city had to pull out all stops to deal with malaria, which had assumed almost epidemic proportions. This year, it is reeeling under stomach infections. BMC has identified Byculla, Antop Hill, Kurla and Santa Cruz as areas from where the most number of water-borne diseases are being reported these days.
A total of 1,823 people had to be admitted to civic-run hospitals due to gastroenteritis and more than 250 for jaundice. Two deaths due to gastroenteritis have been recorded. What has alarmed the civic authority even further is that the majority of cases are being reported from the H-East, E, L and F-North wards.
"Instead of getting random cases from across the city, we realized that more cases were coming from specific areas," said Manisha Mhaiskar, additional municipal commissioner. "In the case of malaria, we had identified seven wards last year and then focused on them separately. They have all shown good results in terms of numbers. Similarly, we have now done micromapping of the four main areas
from where we have been getting the majority of gastroenteritis, diarrhoea and jaundice cases," said Mhaiskar. City doctors say that they are seeing more cases of stomach flu or viral gastroenteritis, wherein patients suffer from loose motions, severe abdominal pain
and nausea for a prolonged period of three days to a week. "There are two types of gastroenteritis one caused by bacteria and the other, by a virus. We are seeing more cases of viral attacks about seven a day wherein there is severe inflation of the stomach," said Dr Hemant Thacker, who consults in several private hospitals.
Since a large number of cases are reported from a particular area, it is likely that the cause is water, say experts. "We have already notified the respective medical officers of these wards to take water samples and send them for testing. If any problem is found with the water supply, corrective measures will be taken accordingly," said R B Bambale, chief hydraulic engineer. BMC officials, though, say that contamination was found in the L ward (Kurla) after several cases of gastroenteritis were reported. "The water and medical departments in the ward have been notified.
The source of contamination is being checked and corrected. Another water sample will soon be taken to see that there is no more contamination," said a BMC official. "The majority of cases in the out-patient department (OPD) are of stomach ailments. The probable cause is mainly unwashed, raw or roadside food," said a doctor from KEM Hospital, who added that this problem recurs every monsoon.
Doctors Recommend
Drink boiled water Avoid ice Avoid roadside food
Do not eat fruits which have been cut open for a long time Strictly maintain personal hygiene Avoid eating heavy or spicy food Rest well
Avoid self medication; visit a doctor if a stomach ache, loose motions or vomiting persist for more than a day If your water supply is turbid or smelly, complain to your nearest ward office immediately Add chlorine tablets to your water in the meantime