Times of India
05 November 2011
Osteoporosis, or weak bones, is affecting IT pros
It's not infrastructure or the lack of it, but weak bones brought about by long hours spent indoors at work that has emerged as a hidden occupational hazard of the IT/BPO worker. During a camp conducted by a city–based clinic, it was discovered that a large number of IT professionals in their 20s to mid–40s were affected by osteoporosis.
Brittle Bones are Due tO » Lack of exposure to sunlight. Sun rays stimulate production of Vitamin D, vital to healthy bones » Reduced intake of calcium products » Long working hours without breaks » Lack of exercise » Alcohol abuse » Sitting in one place for a long time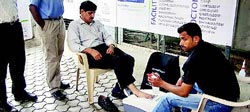 This low bone mineral density condition is thanks to little exposure to direct morning sunlight. Dr Sameer Kulkarni, senior manager at the clinic, who conducted the camp last month at the Pune IT Park in Aundh to generate awareness about osteoporosis, said the results were shocking.
"Out of the 500 IT employees who attended the camp, at least 350 were detected with low bone mineral density. It is sad to see well–educated IT professionals suffering from such a problem. It is very important to have more awareness programmes in this regard, not just for IT professionals but also for other professionals as well those who are forced to spend a lot of time indoors. This also applies to nonworking people who spend a lot of time at home," Kulkarni told Pune Mirror.
In short, osteoporosis causes bones to become fragile without warning. Thinning bone tissue and the resultant loss in bone density makes one susceptible to fractures.
Satyajeet Naik, orthopaedic surgeon, said, "Many people are coming to us with severe neck and back pain these days. They also have very wrong posture when they sit for long hours. The IT employees have bad eating habits. They generally live on fast food which has the least nutrition value. Osteoporosis is most prevalent in them." Kulkarni said, "IT professionals are suffering due to a lack of exposure to the sun's morning rays. These rays stimulate Vitamin D production, essential for healthy bones. Also, a reduced intake of calcium products coupled with long working hours without breaks, lack of exercise, alcohol abuse and sitting in one place for a long period of time can lead to the onset of this disease."
He added that lack of awareness of the problem is also to blame. Sarika Bhore, an IT professional who attended the camp, was shocked upon being detected with the problem. She said, "My lack of awareness of osteoporosis is largely to blame. It's really worrying as I am quite young."
Out of sheer curiosity, Kulkarni conducted another set of tests at a two–day camp in Cerebrum IT park, Kalyani Nagar, and found that 80 per cent of those who attended were detected with osteoporosis. The clinic has now decided to conduct monthly tests in different parts of the city, Kulkarni said.
Bone density is directly proportional to the amount of bone present in the skeleton. So, higher the bone density, the stronger the bone. Similarly, lower the density, weaker the bone. Besides, this problem is also genetic. Kulkarni's advice? "Lead an active life."
He also stresses on the importance of having balanced meals rich in Vitamin D and calcium. "The IT sector crowd should consume more of dairy products, spinach, custard apples, eggs, cheese, cod liver oil and leafy vegetables. Besides, working professionals who are above 40 should go in for regular bone density checks and should stop smoking. Alcohol should be consumed in moderation," he said.