Times of India
01 November 2011
Pune, India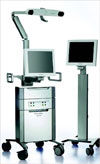 Usage of computer-assisted joint replacement technology has brought about a revolution in joint replacement surgery. The most common cause of joint replacement with manual procedure was mis-alignment. The new technology of computer-based navigation system has completely eliminated misalignment and has made joint replacement surgery nearly 100% accurate, said Franz Maurer, orthopaedic knee replacement surgeon and navigation specialist from Germany.
He was speaking at the launch of orthopilot machine — considered to be the most advanced technology in navigation — at Lokmanya hospital on Monday.
"As the accuracy level is very high, it also helps increase the life of the implants, and it also results in less blood loss to the patient," Maurer said.
With significant improvement in the High Flex Knee design, now the patient can comfortably fold his legs and sit cross-legged.
Elaborating, orthopaedic and joint replacement surgeon Narendra Vaidya and managing trustee, Lokmanya hospital, said, "Proven in the US and Europe for more than 150,000 joints implantations, computer-assisted navigation Orthopilot enables the surgeon to consistently achieve results that are far more accurate than via conventional methods."
WHAT IS IT?
Orthopilot is a computer-assisted navigation system that guides a surgeon to make precise cuts in the knee and remove the deformities. It also eliminates human errors in the surgery. It uses infrared camera, computer with sophisticated software to provide the real time, patient specific information during surgery while virtually eliminating expensive and radiation intensive CT and MRI scans before the surgery.
HOW IT WORKS
At the beginning of the operation, a surgeon strategically positions small transmitters on the patient's leg. The surgeon then guides the leg through a series of prescribed movements which, in turn, are recorded by navigation's infrared camera and transmitted to computer.
The computer analyses those positions to create an anatomic 'drawing' of the knee and updates this information throughout the procedure, displaying for the surgeon all relevant axes, angles, and distances. Analyzing and providing this constant data, navigation (Orthopilot) helps to guide the surgeon through bone cuts, implant positioning, soft tissue ligament balancing, and more, depending upon the operation.