Times of India
05 November 2011
By Kounteya Sinha
New Delhi India
Boiling milk several times before drinking and that too at high temperatures, which reduces its nutritious value, is highly prevalent among Indian women.
A first–of–its–kind Milk Boiling Habits study that involved 2, 400 women across eight major cities has found that Chandigarh leads the pack, boiling milk more than three times a day. While, 84% of women surveyed in Kolkata always boiled milk for over five minutes. About 46% of women in Pune preferred to boil milk in high temperatures.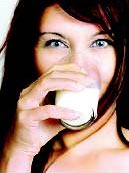 The study, conducted by Indian Medical Academy, on women aged 25–40 in Delhi, Mumbai, Chennai, Kolkata, Bangalore, Hyderabad, Pune and Chandigarh discovered that people are not following correct milk boiling practices.
"They are boiling and reboiling milk on high flame for extended periods and that too without stirring it," the study says. About 49% of Indians boil milk more than thrice before consumption. Around 56% boil it for more than five minutes, and 73% do not stir it while boiling. Most Indians are not following the correct procedure in boiling milk. Chances are high that it won't be consuming quality milk," says Dr Pawan Gupta of IMA.
He added, "Boiling and reboiling milk at high temperature for a long time affects the nutritional content of the milk, particularly the B group (B1, B2, B12) of vitamins. They evaporate as heat rises. Ideally, milk should be boiled not more than twice and not for more than two–three minutes."
Heat of The Matter
49% Indian women boil milk more than three times a day, with Chandigarh leading the pack
While 56% boil it for more than 5 mins, the number touches 84% in Kolkata
73% women do not stir while boiling
46% in Pune prefer boiling it on high temperature Ideally, milk should not be boiled more than twice or over two to three minutes