Times of India
14 November 2011
Bangalore India
TOI & Novo Nordisk Create Guinness World Record
A world record 3,573 people were screened for blood glucose levels in the city on Sunday, the eve of World Diabetes Day. The new Guinness World Record for "most blood glucose level tests conducted within eight hours" was achieved at a diabetes screening camp organized by Novo Nordisk Education Foundation in partnership with The Times of India.
The old record — 1,290 people screened for blood glucose levels in Kuwait on September 16, 2011 — was overtaken in less than two hours of the 'Marking World diabetes Day' opening at Palace Grounds.
World Diabetes Day
"We are happy that groups are taking such initiatives to spread awareness about this growing epidemic called diabetes. We monitored
the entire event and are glad that a record number of people got their blood glucose levels tested here. In the first two hours itself, the figures shot past the previous record count," said Vin Sharma, global talent manager, Guinness World Records. The event began at 7am. The flow remained constant as the day wore on. Later in the evening, event organizers said initial indications pointed to at least 15% of those screened being diabetic.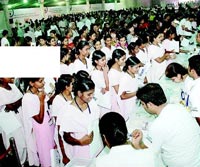 The camp was part of The Times of India's efforts to promote awareness about diabetes which is acquiring epidemic proportions. The newspaper has been publishing informative articles at regular intervals on how to prevent diabetes and contain it before it becomes life threatening, besides conducting blood glucose screening camps for people at large.
Recent studies have conclusively established that diabetes is growing in the country at an alarming rate. According to World Health Organisation (WHO) estimates, 346 million people worldwide are diabetic and the figures are likely to double by 2030. Almost one–fifth of the world's afflicted are in India where 62.5 million people are diabetic and 50% of them are ignorant of their status. Of the aware lot too, very few people seek timely medical intervention. The fact that diabetes is a progressive disorder makes it all the more important to go in for treatment at the earliest, say experts.
"Indians are genetically predisposed to diabetes. The first step is to identify it at the right stage and then work towards eliminating it. Our efforts are aimed at working with multiple partners to create awareness about the disease first. We are working closely with our partners in spreading awareness about ailments, including diabetes, in 85 cities across the country," said Melvin Oscar D'Souza, managing director of Novo Nordisk India Private Limited. The event saw the participation of top Sandalwood actors Bhavana and Priyanka Upendra, who got their blood glucose levels screened. A painting competition was also held at the venue for children suffering from the disease.
Better safe than sorry Palace Grounds was chock–a–block on Sunday as conscious Bangaloreans visited the diabetes screening camp in record numbers to get their blood glucose levels tested