Times of India
12 November 2011
Twenty–seven–year–old Santoshi Devi alias Anita Patel's seven–year–long journey to find her missing parents ended when she recollected her own name and the address of her parents in a remote village in Jaunpur district of Uttar Pradesh and their stay in Mumbai for employment. The overjoyed family is looking forward to meeting their daughter on November 18.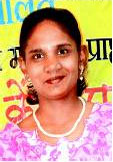 Anita, suffering from schizophrenia, was heading to Mumbai to visit her parents in Parel, but got lost at Kurla station when the milling crowd separated her from her father. Failing to get the whereabouts of her parents, she lost her senses. Her ailment made it worse. In this condition, she was shuttled from beggar home to remand home to orphanage to police stations for five years until she got solace and treatment in the Women and Child Welfare Committee's Swadhar Kendra in Bopkhel two years ago. This is where she eventually found her true self.
Following treatment, she revealed her identity after which a letter was sent by the organisation to her parent's residences in UP, where they got to know that her father works as a taxi driver in Parel. But this joy is tinged with sorrow. Anita has been told that her mother is suffering from cancer and husband, Shyamdas Patel, remarried a year after she went missing. He is now a father of two children. She has now decided to work for orphan schizophrenic children so that they don't suffer like she did.
Anita has passed Class VIII and is computer literate. She is also good at embroidery. She told Mirror, "I was married at the age of 18 to Shyamdas Patel, who worked as a milkman at Bagnari village in UP. Six months after marriage, I told him I wanted to visit my parents who had recently shifted to Mumbai for work. My father came to pick me up at Kurla station, but while I was alighting from the train, I lost hold of his hand and he disappeared in front of my eyes. Suddenly, everything got erased from my memory. I forgot my name and address. Since that day, I was being shuttled from one organisation to another. I spent five years in different ashrams."
"Kasturba Mahila Hostel gave me shelter where I learnt many skills. Some three years ago, I was sent to Ahmednagar Ashram and then to Moshi. For the last two years, I was with Swadhar Kendra," she added.
Shubhangi Thakur, superintendent, Lokmanya Shikshan Prasarak Mandal's Swadhar Kendra in Bopkhel, said, "Anita's story is an example of how people are unaware about a mental decease. She could have avoided her traumatic life had she been treated in time. We are happy that she is not dependent now."