Times of India
10 April 2012
By Kounteya Sinha
New Delhi India
Less than two in 10 women in India received medical attention by a qualified professional in 2010 while delivering at home. Contrary to the popular belief, fewer women in urban India ( 10.8%) received medical attention while delivering at home than in rural India (16.2%). Nearly 1 in 4 births was attended by "untrained functionaries", with the percentage of such births varying from as high as 53.5% in Jharkhand to as low as 0.2% in Kerala.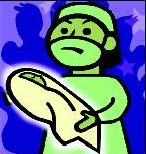 According to the registrar general of India's latest sample registration system (SRS) 2010 data, more women, almost double, delivered in government hospitals (41%) as against private hospitals (19.4%). Kerala recorded the highest deliveries in private hospitals while Odisha recorded the least. Tamil Nadu recorded the highest number of women who delivered in government hospital while Jharkhand recorded the least (19%).
In Delhi, for example, more than half (55%) delivered in government hospitals while 23% went to private hospitals, and 17% of births at home were carried out by a qualified professional. Even in Maharashtra, more women trust a government hospital with nearly half the deliveries in the state taking place there, while 37% women delivered in private hospitals.
When it came to deliveries conducted by a qualified professional at home, it was as low as 4.5% in Maharashtra. Untrained functionary deliveries were as high as 47% in Bihar, 35% in UP, 25% in West Bengal and 27% in Madhya Pradesh.
Institutional deliveries (children being born in health centres or hospitals and not in their homes) have picked up in India. The SRS note, exclusively available with TOI, says: "More than three–fourths of deliveries are institutional and by qualified professionals."
Several states recorded very low births by untrained functionaries. They include Kerala (0.2%), Tamil Nadu (0.9%), Andhra Pradesh (1%), Punjab (2.6%), Delhi (5.3%), Gujarat (8.8%), Haryana (6.3%) and Karnataka (9.3%). Rural regions in several states recorded high rates of delivery in private hospitals. Like Kerala, where 52% of births in rural settings took place in a private hospital, followed by 35% in Andhra Pradesh, 23% in Delhi, 36% in Gujarat, 32% in Haryana, 20% in Karnataka, 36% in Maharashtra, 35% in Punjab and 24% in TN.