Times of India
08 Aug 2012
Chhattisgarh is set to become the first state to extend health insurance cover to all its unorganised sector workers, a step that will not only make healthcare accessible to all but also set a model for other states to follow.
The state has offered to pay the insurance premium from October 1 for all those not covered under the Centre's flagship health insurance scheme—the Rashtriya Swasthya Bima Yojna (RSBY). The labour ministry, which implements the scheme across the country, has accepted the proposal.
Launched in April 2008, RSBY aims to provide annual health insurance cover of . 30,000 each to below poverty line (BPL) families and some categories of unorganised sector workers.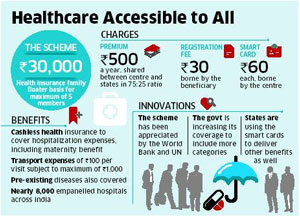 Chhattisgarh government's decision will ensure that the poor and needy, who do not have BPL cards or are not covered under the Employees State Insurance Act, are not ignored by RSBY. The state is also pioneering the use of RSBY smart cards to deliver ration through the public distribution system.
"This is the first time that a state has taken such a decision," said Anil Swarup, director general of Labour Welfare and the architect of the scheme. "A few other states, like Kerala, have used the RSBY platform to extend it to a larger section of the population, but they have not universalised the scheme."
Swarup said RSBY will be available for all in Chhattisgarh.
"All clearances are in place and an insurance company also has been selected," he said. "We have also doubled the capacity of the new cards so that all information related to PDS can also be stored."
In a country where expenditure on health is one of the main causes of indebtedness, the Centre is banking on the success of RSBY. It wants to more than double the scheme's coverage to 70 million families by the end of the 12th Five–Year Plan. At present, there are 32.2 million families holding the RSBY smart card and there have been more than 4 million claims. The finance ministry has stepped up allocation for the scheme to . 1,500 for 2012–13, from . 360 crore in the previous year.
The premium for households covered under the scheme ranges between . 500 and . 700, a third of which is borne by the Centre, while the states bear one–fourth of the cost.
Chhattisgarh government, however, will have to pay for all the additional beneficiaries. "The labour ministry is of the view that the RSBY platform can be allowed to be used for all such unorganised workers who are not eligible for cover under the ESI Act," Labour Minister Mallikarjun Kharge said in a letter to Chhattisgarh CM Raman Singh.