Year 2016
Doctors recommend life-saving surgery for the Medical Council of India
Details

Hits: 8810
Coalition of doctors say the Medical Council Act must be scrapped in order to overhaul medical education and boost public health systems.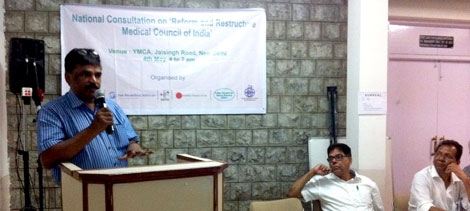 A national coalition of doctors and activists working in public health on Wednesday demanded that the Medical Council Act, 1956, be scrapped. This, they said, will help overhaul medical education and boost public health systems in the country.
This call was made during a meeting in New Delhi that was organised following the release of a scathing Parliamentary Standing Committee Report in March on the functioning of the Medical Council of India, which regulates medical education, licensing and practice in the country. The report said that the council had failed in its mandate to provide quality medical education, and instil ethics among doctors in the country. On Monday, the Supreme Court endorsed the report and set up a three-member committee headed by former Chief Justice RM Lodha to oversee the functioning of the MCI for at least a year.
The coalition has also roped in a few Parliamentarians to support their endeavour. Independent Rajya Sabha MP, Alajangi Viswanath Swamy, KC Tyagi of the Janata Dal (United), and Hussain Dalwai of the Indian National Congress, who were present at the meeting, have pledged their support. The MPs said that they would raise their voices against the Medical Council of India in Parliament.
Money-making racket
"If a student pays Rs 2 crore to Rs 4 crore to get admission in a private college, he is bound to take it [back] from the patients," said Dr Abhay Shukla, from the Pune-based NGO Support for Advocacy and Training of Health Initiatives. "There is bound to be corruption. Medical education has to be made highly affordable. Only that will result in affordability of health care."
Dr GS Grewal, president of the Punjab Medical Council, said his experience had shown him that a lot of black money was being circulated in medical education. Dr Grewal is credited with having exposed a racket by private medical colleges in Punjab in which they hired "ghost faculty" just so that their colleges got teaching licenses.
"Doctors should declare their assets before and after they become members for public transparency," said Dr Ritu Priya Menon, from Jawaharlal Nehru University, Delhi.
The group felt that the new MCI should be modelled after the General Medical Council in the United Kingdom. Concurring with the Parliamentary committee report, the coalition felt that the members of the Medical Council of India should be nominated, and not elected, as is the case with the UK body.
"We also need members of civil society in MCI, not just doctors," said Dr Shukla. Also, the group felt that the three functions of the MCI – related to regulating medical education, licensing and practice – should be looked at by separate bodies.
Making their case
This delegation of doctors will put forward these "socially grounded" views and proposals expressed in this consultation before Health Minister JP Nadda, the Niti Ayog, and the Prime Minister's Office. They also want to have a new draft law ready to be placed before the government. The group felt that the Parliamentary Standing Committee Report gave them a good window of opportunity to get the government to work on reforms related to the MCI.
Some doctors said that the initiative to scrap the MCI must be made tactfully by roping in members of Parliament, especially those who have no direct stake in medical education. "The last count said that 88 MPs have direct interest in medical colleges," said Keshav Desiraju, former Union health secretary. "They will be on their feet to oppose any such [new] bill."
He added that the group needed to reach out to more practicing doctors. "I see the same group of people each time I come for a meeting like this," said Desiraju. "The doctor community needs to be more involved. We need a much larger group of people who are willing to stand up and be counted."
Source: scroll.in




Records of published articles in the newspapers helps common people about precautions to be taken while seeking the services from health professionals and also helps health professionals to rectify the negligence.
read more…